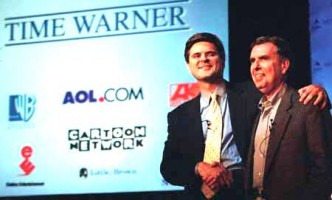 In an appearance yesterday on CNBC, Gerald Levin, who led the historic $164 billion deal ten years ago, apologized for the colossal failure of the sale, putting himself on the line a decade later.
"I presided over the worst deal of the century, apparently, and I guess it's time for those who are involved in companies to stand up and say: you know what, I'm solely responsible for it," said Levin. "I was in charge. I'm really very sorry about the pain and the suffering and loss that was caused. I take responsibility." Obvious, but not quite healing words.
When we last heard from Levin, he was living a New Age life, running Moonview Sanctuary, a "holistic healing institute," and making art, as described in a fascinating New York magazine profile. But this new mea culpa from the former mega-mistake mogul might represent a larger softening from an ego-driven boom to a catastrophic bust. If only it didn't mean so little!
It's almost reminiscent of the early '90s film trend in which powerful, cutthroat men found their sensitive sides and atoned for being assholes. "What these plots usually involved was a high-powered alpha male who experiences some traumatic experience, and because of that, learns to be sensitive," wrote Sean Gallagher on the trend, in his essay "I Am Man, Hear Me Cry." See also: Tom Cruise in Rain Man, William Hurt in The Doctor and Harrison Ford in Regarding Henry. Now, it's Jerry Levin — self-actualized, but ready to point a finger.
Levin went on to call out America's other major business offenders: "Let's hear publicly from Lehman Brothers, Bear Stearns, Merrill Lynch, on and on," he said, while reminiscing about the possibilities of the AOL-Time Warner disaster. "It was just taking this magnificent concept and not being able to meld it into a missionary zeal," said Levin. How can you say to your brother, "Let me take the speck out of your eye," when all the time there is a plank in your own eye?
Check out the clip below:

Have a tip we should know? [email protected]