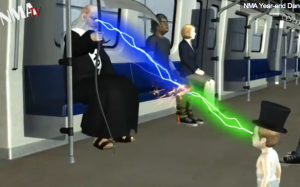 The history books may not show it, but 2010 was clearly the Year of NMA News. The Taiwanese animation house first burst on the scene in late 2009 with their animated retelling of Tiger Woods' wild ride. Bloggers around America were amazed at the absolute absurdity of it. Then the videos kept coming with each one more insanely awesome than the last. Soon the videos were being churned out at a pace of a few a day and NMA fatigue began to settle in (there's only so many times a week we can post Shark-Rupert Murdoch videos). But at its height, the NMA craze was all the rage here in Blogger-World. As such, it's only fitting to end 2010 with NMA's two New Years' videos. Yes, they're crazy. Yes, there's dancing. No, it's not one of their truly bizarre sexy girl weather reports.
The two videos to ring in the new year are typical NMA genius. The first one features Baby New Year and Father Time having a violent battle in a subway car for time supremacy. There's lasers and slow motion gun play. The second video features all of NMA's biggest stars like Barack Obama, Sarah Palin, Mark Zuckerberg (who still looks nothing like him), every celebrity with a sex scandal, and the aforementioned shark all having a crazy dance off. It's like the best New Years Eve party ever!
Both are good but I think I like the dancing one more. Not because of anything in it, per se. Mostly just because these videos are animated with motion capture and I just like the idea of all the NMA employees dancing up a storm to make it. I hope they made it during their holiday party or something.
Check out both videos from NMA News below:
Have a tip we should know? tips@mediaite.com