'There is Some Irony': NRA Built Huge Gun Owner Database Without Members' Consent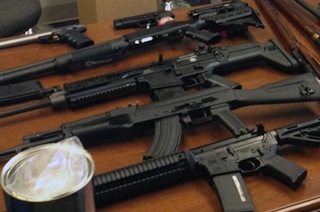 Buzzfeed reported Wednesday morning that the National Rifle Associaition has built the world's largest database of information about American gun owners—similar to the type of database they fervently campaigned against during the gun control debate earlier this year—without its members' consent.
"That database has been built through years of acquiring gun permit registration lists from state and county offices, gathering names of new owners from the thousands of gun-safety classes taught by NRA-certified instructors and by buying lists of attendees of gun shows, subscribers to gun magazines and more," Steve Friess wrote.
While the NRA would not release the number of people it tracked, one former lobbyist estimated the figure in the tens of millions.
The database not only allows the NRA to mine consumer data from its members, but also curate political strategies. "Even in an age when opinion polls show gun-control measures gaining in general popularity and when wealthy benefactors like New York Mayor Michael Bloomberg are spending millions to counter the NRA's lobbying and advertising budgets, the NRA has built-in advantages," Friess wrote.
Laura Quinn, CEO of a data analysis firm contracted through Obama's OFA, compared the NRA's data-mining techniques to OFA's successful 2012 extrapolation of voter data. "Part of the way they have gotten to a place where they are able to do what they do is through data," she said of the NRA. "There is some irony."
Read the full article HERE.
[h/t Buzzfeed]
————
>> Follow Evan McMurry (@evanmcmurry) on Twitter
Image via Wamu
Have a tip we should know? [email protected]