This Exists: Art Installation Set To Fill New York Streets With Playable Pianos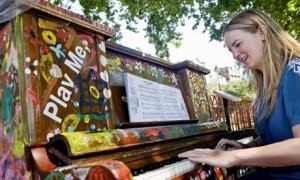 Whether you love New York, hate it, or, like Glenn Beck, both, you have to admit that there's some cool stuff that goes on here. The New York Times is reporting today that charitable organization, Sing for Hope, is planning on filling New York's public areas and parks with 60 beautifully painted and completely playable pianos during a public art project entitled "Play Me, I'm Yours." The installation, running from June 21st to July 5th, will presumably fill the city with delight as well as changing it so that we're all woken up at 6 AM by lovingly played Chopin classics instead of car stereos blaring Reggaeton.
This, like the previous city-wide art piece "The Gates," is the kind of thing you can only find in New York. Well, actually, that's not entirely true as it's inspired by a similar installation in London last year. However, the London version only had 30 pianos, half as many as New York is getting. So, take that, you limey jerks! It's not a tie this time!
The New York Times piece has a bunch of interesting details on the logistics of placing 60 pianos around New York City. Basically, imagine how hard it was to help your roommate carry his stupid keyboard upstairs that one time and multiply in by a million. Here's a taste:
"But pianos contain a lot of wood. Wood swells up in damp weather. And what if it rains?

Sing for Hope has a plastic tarp to pull over each piano and a "piano buddy," a volunteer assigned to keep an eye on the weather and beat that cloudburst, just like the grounds crews at Yankee Stadium.

And just in case anyone was tempted to walk off with a piano, each one will come with an antitheft device: a cinder-block chained to the case."
We can only assume that those piano guarding volunteers are being specially trained not to go ballistic the 3,000th time someone plays "Heart and Soul."
All kidding aside though, this sounds like a pretty cool idea and I'm looking forward to checking out the one by my apartment. If you're a New Yorker wondering where the nearest one to you will be, you can find the list of all locations here.
Have a tip we should know? tips@mediaite.com