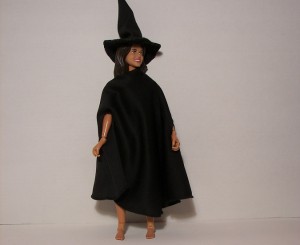 Hot on the heels of her "I am not a witch" campaign ad, and just in time for Halloween, Herobuilders.com is offering Christine O'Donnell witch dolls for the collectible price of $39.95. The site also offers an "Executive" version of the doll, in a smart business suit, for $29.95. If you live in a cave, the doll is a spoof of O'Donnell's now-infamous claim to have "dabbled in witchcraft" as a teenager.
The dolls just went on sale today, so when we contacted Herobuilders owner Emil Vicale, he was shocked to learn that his creation had already been featured in The New York Daily News. While he didn't have any sales figures yet, he did give us some indications of the doll's possible success.

"I don't have any sales figures yet," Vicale said, "but one woman is buying a hundred of them if she's in a red dress, so we're putting her in a red dress now. I think she's going to be a fantastic seller."
Vicale surmises that the red dress order is from a supporter, but the market for the witch doll is more likely to be "a gag gift to send their Republican friends and family."
Not everyone is thrilled with the idea. Vicale says he's already gotten one strongly-worded email. "Some guy in a college said I was interfering with a political race. I think he left his sense of humor at the college he works at. It's all in good fun."
Herobuilders is a bipartisan enterprise, offering a variety of figures for political junkies on both sides of the aisle, including a selection of Sarah Palin dolls, an "anatomically correct" Scott Brown figure, and even a Joe "You Lie" Wilson doll to go with your Barack Obama action figure.
The O'Donnell doll is also a patriotic purchase. Vicale says the figure's witch costumes are hand-made in the USA, which is why they cost slightly more than the "Executive" version that's clad in a stock outfit.
So, will there be other O'Donnell figures, perhaps a Hare Krishna version? Vicale says there are more O'Donnell dolls in the works, but wouldn't get specific. If his first big customer is any indication, however, it looks like he's open to suggestion.
Have a tip we should know? tips@mediaite.com