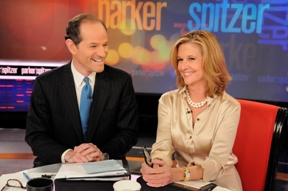 There's no other way to spin this – Parker Spitzer did not perform well last night.
The program finished #4 at 8pmET, behind Fox News and MSNBC (unsurprisingly) but also behind HLN. Here are more details.
Parker Spitzer finished 4th in total viewers and the A25-54 demographic. It also lost viewers from the lead-in at 7pmET, John King USA, in total viewers.
We have more on this coming, for now, here's what 8pmET looked like on Parker Spitzer night 1:
FNC: 3,112,000 (722,000 in 25-54)

MSNBC: 1,115,000 (329,000 in 25-54)

HLN: 468,000 (149,000 in 25-54)

CNN: 454,000 (118,000 in 25-54)
> Update: Parker Spitzer did improve on the lead-in in the demo, and was up week-to-week in demo as well. A CNN spokesperson tells Mediaite: "We are pleased with the quality of the show and over time we think viewers will be drawn to the more thoughtful discussion and lively debate that Kathleen and Eliot have to offer."
When I asked Spitzer about ratings last week, he said, "It takes time for most successful shows to build an audience. There will be interest from the beginning, and we hope to entice some of those people to stick around. We also know these things do not happen overnight." Well…
Here's the full scoreboard:
TV NEWS RATINGS: 25-54 DEMOGRAPHIC (L +SD)
5 pm
Beck

585

Blitzer

100

Matthews

160

Showbiz

48

6 pm
Baier

420

Blitzer

125

Ed Show

205

Prime

77

7 pm
Shep

517

King, USA

101

Matthews

235

Issues

118

8 pm
O'Reilly

722

ParkerSpitzer

118

Olbermann

329

Grace

149

9 pm
Hannity

549

King

187

Maddow

279

Behar

93

10 pm
Greta

486

Cooper

176

O'Donnell

260

Grace

108

11 pm
O'Reilly

527

Cooper

130

Olbermann

194

Showbiz

125

TOTAL DAY
331
99
147
108
PRIME TIME
586
160
289
113
Data by Nielsen Media Research. Live and same day (DVR) data.
TV NEWS RATINGS: TOTAL VIEWERS (L +SD)
5 pm
Beck

2269

Blitzer

432

Matthews

625

Showbiz

136

6 pm
Baier

2049

Blitzer

463

Ed Show

845

Prime

219

7 pm
Shep

2026

King, USA

471

Matthews

773

Issues

338

8 pm
O'Reilly

3112

ParkerSpitzer

454

Olbermann

1115

Grace

468

9 pm
Hannity

2086

King

543

Maddow

854

Behar

286

10 pm
Greta

1791

Cooper

512

O'Donnell

887

Grace

255

11 pm
O'Reilly

1518

Cooper

366

Olbermann

542

Showbiz

293

TOTAL DAY
1241
361
451
242
PRIME TIME
2334
503
952
325
Data by Nielsen Media Research. Live and same day (DVR) data
Have a tip we should know? tips@mediaite.com