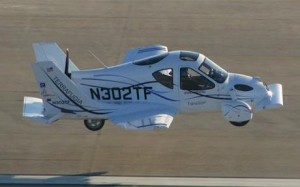 While one of today's biggest stories reminds us of the classic James Bond films of the Sean Connery age, another story harkens, instead, to the Roger Moore Bond films. You know, the silly ones where Bond has a car that can turn into a submarine. Well, guess what. Terrafugia, a company founded in 2006 by "award-winning MIT-trained aeronautical engineers and MBA's," has beaten Bond at his own game by creating the Transition, a car that can transform into a plane. Q himself would be proud.
That's right, the horrifying dystopian future of The Jetsons is nearly upon us (it's hard to write a post like this and not fill it with pop culture references). While the Terrafugia team has been hard at work for a while, the Transition just got its approval from the Federal Aviation Administration recently.
From the Telegraph:
"The Transition was designed as a "light sport" aircraft, the smallest kind of private aeroplane under FAA classification, with a maximum weight of 1,320lb. But the manufacturers found it impossible to fit the safety features – airbags, crumple zones and roll cage, for instance – that are required for road vehicles into that weight.
Uniquely, however, the FAA has granted the Transition an exemption – allowing it to be classified as a light sport aircraft despite being 120lb over the limit."
The flying car is expected to sell for $194,000 and, apparently, has already been ordered by 70 people. Once I get my next Mediaite paycheck (and then win the lottery), I'm definitely going to make it 71. Who's with me?
Check out some video of the Transition in action below!
Have a tip we should know? tips@mediaite.com