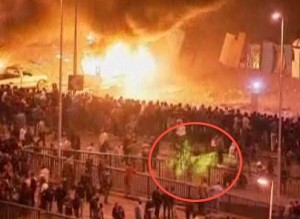 For those troubled by the recent events that have unfolded on the streets of Cairo — who see it as evidence of a coming caliphate,or even worse, the end of days — the editors of FoxNation.com have thoughtfully published what may be video evidence of the "Fourth Horseman of the Apocalypse" appearing amidst the protests of Cairo on February 3rd. Yes, FoxNation.com is asking its readers if the following video is evidence of the end of the world.
The original video appears to have originally emanated from a rather straight news report on Euronews, which was later discovered by WND who breathlessly asked "Has Revelation's 'pale rider' shown up in Egypt?" adding "Riot footage shows mysterious horse-like figure floating through crowd." This was then picked up by Fox and Friends weekend anchor Clayton Morris, before it was aggregated by FoxNation.com, who included the video with the following explanation:
This is an incredible piece of video. At the 1:20 mark you clearly see some greenish figure moving through the crowd.

Between the crowds of protesters and barricades, the video shows a flowing, pale green image that resembles an erect rider atop a horse in Medieval-like barding. The ethereal figure remains for a few moments before floating over protesters' heads and off the screen.

Is this the Fourth Horseman of the Apocalypse?"
This story begs the question: what is FoxNation.com? When it launched in 2009 it was presented as a sort of hybrid news site/forum for users to share thoughts and opinions. But evidence by the following story, the definition of "news" appears to be a loose one at best. The commenters on the page seem to pretty much agree on two things: 1) that the alleged apparition is nothing but a lens reflection, and 2) that "this is amazingly insane… I can't believe this is on a "news" website" as one commenter writes.
Watch the video below:
(H/T
Reddit
)
Have a tip we should know? tips@mediaite.com
Colby Hall - Founding Editor