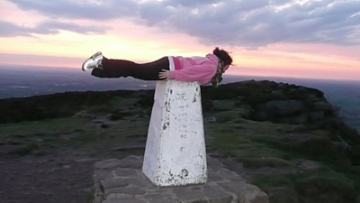 Sky News reported yesterday on a group of seven hospital employees from Wiltshire, England who were suspended recently. The reason given – their supposed participation in the "Lying Down Game."
The follow-up question would be, 'What the hell is the Lying Down Game?'
Apparently the Lying Down Game is a craze that has been sweeping the nation across the Atlantic this summer. But unlike Susan Boyle, it hasn't resonated here in the U.S.
The game, according to its Facebook group page that has more than 50,000 members, can be summed up this way:
Please be aware that the palms of your hands must be flat against your side and the tips of your toes pointing at the ground. Just as if you were standing, but vertically challenged.
Participants take pictures of themselves in interesting places, lying horizontal as if they were standing vertically. This has spawned an official Website, mainstream media coverage and now some suspensions for hospital workers accused of playing the game while on duty.
From the Sky News story:
Staff from the A&E department and acute assessment unit were pictured on resuscitation trolleys, ward floors and the Wiltshire Air Ambulance heli-pad at the hospital…Hospital bosses judged that the workers had potentially breached health and safety and infection control regulations – which could result in them being sacked.
When will the U.S. steal this idea and make it into some sort of short-lived game show, passing it off like our own creation?
Here's a Sky News report from July about the game:

Have a tip we should know? tips@mediaite.com