This Exists: UK Prime Minister Defends Downing Street Cat From Calls For Resignation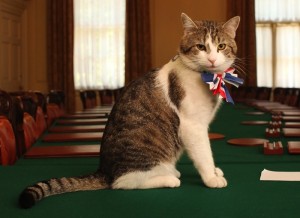 Larry, the official cat for 10 Downing Street, the residence of the British Prime Minister, is being accused of shirking his official duties as "mouser-in-chief." This is somehow an actual story, but what really makes it odd is that Prime Minister David Cameron is actually defending the cat against apparent calls for it to step down from its position.
Earlier this week, Cameron was dining with Work and Pensions Secretary Iain Duncan Smith and Northern Ireland Secretary Owen Paterson when a mouse was spotted scurrying across the floor. Larry was nowhere in sight, and so the Prime Minister did the only thing he could: throw a fork at the blasted thing. Cameron missed, and Smith wondered why Larry wasn't there to take care of the pest.
Larry has been living in the Prime Minister's residence for several months now, and according to anonymous insiders, Larry has been "more interested in sleeping on the job than putting the frighteners on inner-city rodents." In fact, the BBC reports that Larry "spends more of his time asleep or with a lady friend, Maisie, than he does hunting rodents."
So, naturally, there have been questions as to whether Larry should officially step down from his post and hand the torch over to a younger, more charismatic feline. The Prime Minister's spokesman only had this to say on the issue:
"Larry brings a lot of pleasure to a lot of people."
10 Downing Street has a long history of employing cats as Chief Mousers to the Cabinet Office, including Humphrey, who served three separate Prime Ministers during his time in office, from Margaret Thatcher to the first few months of Tony Blair's reign.
h/t The Australian
Have a tip we should know? tips@mediaite.com
Josh Feldman - Senior Editor