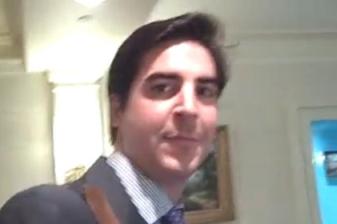 At the Values Voters Summit this weekend, Think Progress caught up with infamous Fox News ambusher Jesse Watters for an ambush interview of his own.
And unlike Gawker's attempt to ambush Watters outside his home in June, this one was fairly successful.
The video is below. Also, Fox Nation published their own video of the ambush which could end up on The O'Reilly Factor Monday, which essentially provides another angle to watch Watters be a cowering hypocrite.
Some background first: In March Watters ambushed Amanda Terkel, an editor at Think Progress. She wrote about the experience, and it started a run on 'ambush tactics' stories, including this one from Brian Stelter of the New York Times.
"So you're trying to ambush the ambusher?" says Watters at the beginning of the video. Then things get a little creepy. "Amanda Terkel? Tell her I said hello," he says. "Tell Amanda and her boyfriend I say hi. Amanda, how you doing?"
Watters is asked why he wouldn't be interviewed for the Times story. "I didn't refuse to comment to the New York Times," he says, smiling. "Don't believe everything you read in the New York Times." Meanwhile, Stelter refuted this on Twitter: "I called Mr. Watters repeatedly at his office #, and he referred my calls to Fox's PR people. He refused to comment."
So Watters got a taste of his own medicine – and responded by being evasive, fabricating and generally acting annoyed by the whole process. It sounds a lot like…the people who Watters ambushes.
Even some at The Fox Nation had some harsh words for Watters after seeing the video. Here's "Bob the Conqueror": "Jesse Watters, your college called, they want their degree back. It is sitting in your closet next to your dignity."
Check it out:


—–
» Follow Steve Krakauer on Twitter
Have a tip we should know? tips@mediaite.com