This Is What it Looks Like When Brands Cry: Snapchat, Target Field, and More Mourn Prince
Since it was announced that music legend Prince died today at the age of 57, no one has seemed capable of talking of much else, and quite rightly. On Fox News moments ago, Shep Smith remarked that this has been the first time they've stopped talking politics in "what feels like 30 years." Switching from channel to channel, all we have been able to see on cable news has been about TAFKAP himself.
His memorialization isn't limited to television, though. A number of brands have stepped forward to mourn and pay their respects. Here are just a few.
We've already discussed the prevalence of Snapchat filters as a legitimate means of advertising and communication in 2016, and even though the company is still in damage control mode following yesterday's unfortunate Bob Marley face filter, they reacted quickly to the news of Prince's passing.
That was fast @Snapchat pic.twitter.com/58o0WdYO32

— Joel Pavelski (@joelcifer) April 21, 2016
Purple has been the theme following Prince's death, just as it was the theme of his life. Target Field, too, honored him using his favorite color. (Full disclosure: I'm a huge Twins fan, so this one is, to me, the most touching.)
Fitting that it's raining in Minneapolis today. pic.twitter.com/s5KFurDhHi

— Minnesota Twins (@Twins) April 21, 2016
The Twins also turned the team logo in their Twitter profile picture purple, as did office supply company 3M, which is based in Minnesota.
— 3M (@3M) April 21, 2016
Pornhub got in on the action…
Touching pic.twitter.com/NL2U6GJVCA

— Jordan Hoffman (@jhoffman) April 21, 2016
…as did Cheerios, though they quickly deleted their tweet after receiving backlash.
The @cheerios tweet about @Prince isn't going over too well pic.twitter.com/nVqAUUD6oC

— Jim Hammerand (@mspbjHammer) April 21, 2016
Hamburger Helper, yet another Minnesota-based company, also deleted their tribute to the Purple One:
— Andrew Nicla (@AndrewNiclaASU) April 21, 2016
NASA joined in, proving that Prince's talent couldn't be contained to this world alone.
A purple nebula, in honor of Prince, who passed away today. https://t.co/7buFWWExMw pic.twitter.com/ONQDwSQwVa

— NASA (@NASA) April 21, 2016
Maker's Mark bourbon jumped on-board with their dipped bottlenecks.
Best Buy kept their tribute simple and quietly changed their Twitter picture with no announcement or fanfare.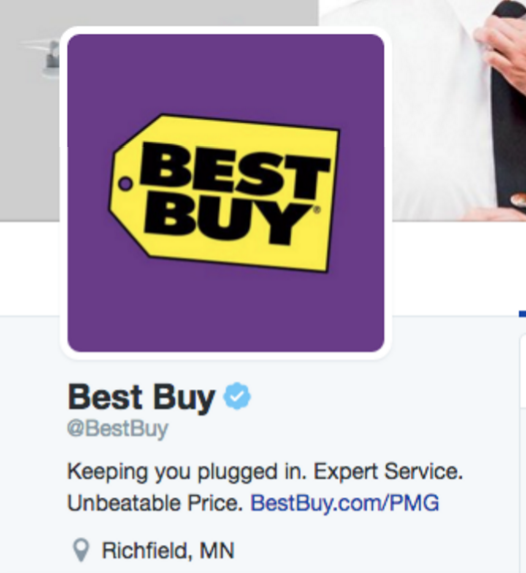 Finally, Mission Chinese put up an Instagram of the icon.
Did you see any other brands participating in the collective e-mourning today?
[image via screengrab]
For more from Lindsey, follow her on Twitter.
Have a tip we should know? tips@mediaite.com