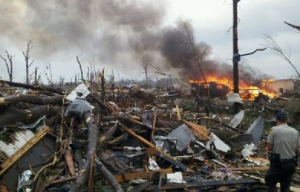 Lost in all of the media hubub surrounding President Obama's birth certificate and Donald Trump's promotional racket is a much more catastrophic story unfolding in the deep south: massive tornadoes have wreaked havoc on the city of Tuscaloosa Alabama and numerous towns in rural Alabama and unconfirmed reports of numerous fatalities are already surfacing on Twitter.
Governors in Alabama, Arkansas and Tennessee each declared a state of emergency as more than 20 deaths were blamed on a recurring round of severe storms this week moving eastward across the southern United States. Reuters has reported that the storm has knocked a number of nuclear power plants offline.
CNN has the latest update:
The death toll from Wednesday's severe storms in the South has risen to 31. At least 25 were killed in Alabama, five in Mississippi and one in Arkansas, according to authorities.

Storms packing high winds and the possibility of tornadoes still are bearing down on portions of Mississippi, Alabama, Georgia and eastern Tennessee.

"Particularly dangerous situation" tornado watches are in effect for parts of southeastern Mississippi (until 10 p.m. CT); much of northern and western Alabama (until 10 p.m CT); east-central Alabama (until 1 a.m. CT); much of Tennessee (until midnight CT); parts of northern and western Georgia (until 2 a.m. ET); northwestern South Carolina (until 2 a.m. ET); and parts of eastern North Carolina (until 2 a.m. ET), according to the National Weather Service.

A "particularly dangerous situation" watch is issued when there is a high risk of multiple strong tornadoes.
Meanwhile, a number of homemade tornado videos tearing through Tuscaloosa are already appearing online, such as the one below (H/T ProducerMatthew):
Have a tip we should know? tips@mediaite.com