Three High School Teachers Resign After Their Nasty Messages About Students Leak Online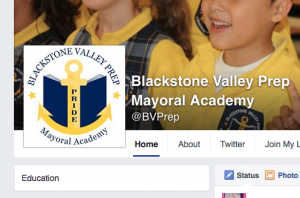 Sometimes, a paper trail is a necessity if you want or have a certain job. Want to be a writer for a site like Mediaite? Write, write, write until you have a big portfolio! Want to be President! Don't delete your emails!
Want to be a teacher, though? Consider not creating a record of every thought in your head.
That advice comes too little too late for three teachers at a school called Blackstone Valley Prep Mayoral Academy, in Cumberland, Rhode Island. They resigned after their Slack messages were made public.
One student named Hudson Deighan was so devastated by what she read about herself that she went public and spoke to the Providence Journal. They use her name and photo, so we will too, even if it feels uncomfortable to write this about an identified 16-year-old as the former teachers remain anonymous.
After Deighan spelled Ta-Nehisi Coates' name, "Tonahese Quotes," a teacher she trusted logged into Slack to make fun of her. Another responded, "Fucking idiot."
Deighan has struggled with spelling her entire life and told the Journal that the teacher who gossiped about her mistake was someone she trusted and in whom she thought she had found a mentor who could help her with her spelling. He made her feel unashamed of her struggles and helped her feel that she could work through it. Unsurprisingly, after reading what he said, she started to cry.
"I thought I had a personal relationship with him. We've had conversations about life, our families. I trusted him," she said.
She saw the messages at the same time all of her classmates and their parents did. Last Monday morning, a hacker used the email address of one of the teacher at Blackstone to send 18 pages of screenshots from the staff Slack channel to everyone.
Here is a compilation of other messages that the Journal included, left as their reporter chose to print them:
"Man I wish we could hit them," writes one teacher. Another responds, "Move to Arizona. Though really no school districts allow, by state law you are allowed to. Start your own charter and commence with the flogging." She responds: "lol"
"Did you ever hear from Hudson's mom?" asks one teacher. "I did not," responded another. "What a loser. Truly. There is more to success than where you go to school. Clearly Columbia doesn't provide access to parenting programs, or if they do, she didn't take advantage," he writes back.
"Lying [expletive] scum," writes one teacher of a failing student's parent, using a Spanish curse word. She continued, in all caps, "I CANNOT WITH HER I HOPE HER STUPID SON FAILS ALL OF HIS CLASSES."
"HE IS FAILING FIVE CLASSES," writes one teacher. Another responds, "[Expletive]IDIOT. Let him know if he [expletive] up again he will be in my HR. And I will not be so pleasant."
Jeremy Chiappetta, Executive Director at Blackstone, wrote an open letter to parents and students, saying, "As the founding school leader, executive director of the organization, and parent of three scholars in the program, I am deeply saddened and disappointed. Parents put their trust in teachers and the school, and that trust has been violated."
As if being 16 isn't already awful enough.
[image via screengrab]
For more from Lindsey, try Twitter or Facebook.
Have a tip we should know? tips@mediaite.com