#ThrowbackSCOTUS: People Are Seriously Proposing Sandra Day O'Connor Return to the Bench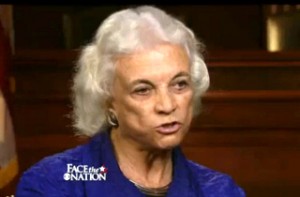 90s/early 00s nostalgia is all the rage right now, which may explain why in the scramble to find another Supreme Court justice, some are seriously proposing a real-world throwback by having Sandra Day O'Connor return to the bench.
Much like Terminator and Independence Day, O'Connor is a venerated symbol from the 80s and 90s that people want to see come back in a new and fresh way. (Only one of those three, however, doesn't have to answer to Rotten Tomatoes.)
O'Connor served on the Supreme Court from 1981 to 2006, and was appointed by Ronald Reagan himself, so some see her as exactly what the country needs right now.
Two political science professors wrote in The Baltimore Sun that this would have precedent––a justice who stepped down in 1916 returned in 1930––and O'Connor would be an ideal pick to avoid too much partisan fighting:
Justice O'Connor is nearly 86 years old, which would normally be considered a liability. Under these circumstances, her age is a significant asset. She is more than capable of serving on the court for a year or two, after which she could retire and the new president could use his or her political mandate to appoint a younger justice. Reappointing Justice O'Connor would benefit President Obama, the court, and, most importantly, the American people.
And then there's this from The Washington Post:
Her nomination would effectively call the bluff of Senate Republicans who childishly have threatened not to consider any choice put forward by President Obama. Indeed, not only would Republicans have to hold a hearing for the first female Supreme Court Justice but they would be hard pressed to come up with a good reason to deny her a seat. The same would go for Democrats.
One big hangup for Republicans, in the unlikely scenario this actually happens, would be O'Connor's views on abortion and how she ruled on it during her 25 years previous.
[image via screengrab]
— —
Follow Josh Feldman on Twitter: @feldmaniac
Have a tip we should know? tips@mediaite.com
Josh Feldman - Senior Editor