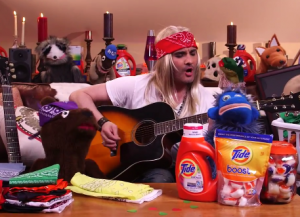 You know we need more of on the internet? Viral videos about laundry. Well, worry not, because the folks over at Tide have decided to get on board with a YouTube video released this weekend featuring indie music and puppets, the two key components of any successful video. However, this video has some rather unique origins: as a response by the PR team at Tide to a fake op-ed by a PR person at Tide in The Onion about a seriously cool new viral video Tide really wants you to check out.
RELATED: This Exists: Man Makes Viral Video Asking For Million Dollars; Someone Gives It To Him (UPDATE)
The Onion piece, titled "Hey, Everybody! This Cool New Tide Detergent Video Is Blowing Up All Over The Internet!", poked some fun at the company. Here's an excerpt:
For those of you who haven't seen it yet—and trust me, your friends are going to email this Tide detergent clip to you, like, a thousand times in the next few days—it's got these cute, funny talking animals, a cool indie-rock song, and it's just so hilariously random. And it's got this amazing cameo by Bret Michaels, which is so funny because Bret Michaels is hilarious and from the '80s.

But hey, I don't want to ruin it for you. Just take a minute to check it out for yourself at the Tide website or Facebook.com/Tide, or check out Tide's totally awesome YouTube channel, which is like a treasure trove of cool, popular videos that everyone loves. And honestly, do yourself a favor and just go to Tide's website and hang there for a while. It's a totally awesome place to go and play online games and meet other cool fans of Tide products.
Well, Tide decided to respond in the only way they could: actually bringing the fake idea to life in a real tongue-in-cheek ad about viral videos, complete with "cute funny talking animal friends," a guy who looks a lot like Bret Michaels, a song that oh-so-subtlely pushes Tide products, and, of course, the obligatory hashtag to help it go even more viral: #TidePower.
Watch the YouTube video below:
Have a tip we should know? tips@mediaite.com
Josh Feldman - Senior Editor