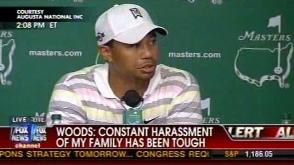 Tiger Woods answered more than 30 minutes worth of reporter's questions today ahead of his Masters tournament return to golf on Thursday, and he was candid, revealing and contrite.
For those who wanted answers, there were answers. For those who wanted emotion, there was emotion. Here's what he said.
He started with a brief statement:
What a great day today. Coming into today I didn't know what to expect with regards to reception. I'll tell you what, the gallery couldn't be nicer. It was just incredible. The encouragement I got was just, it blew me away to be honest with you.
It only took one question for Woods to talk what many believe is the most shadowy detail of this entire four month mystery – how it all began. Woods wouldn't speak directly to the circumstances, but he did reveal the damage done: "busted up lip, and pretty sore neck. and that was it" (also noting he had "five stitches" in his lip).
There was a bit of early blame for the media, naturally. He said one of the hardest things for the past couple months has been the "constant harassment to my family. My wife and kids being photographed everywhere they go, being badgered, that's tough for them. It's really hard for us to heal." He was later asked specifically about the "mainstream media" – separate from the golf and sports media. "The times have changed as well," he said. "24 hour news, you're looking for any kind of news to get out there."
He was most emotional in two circumstances. He described how difficult the decision to go to rehab was for him, which he says was decided around Christmas. Because of rehab, he missed his son's first birthday. "That hurts a lot," said Woods. "I vowed I'd never miss another one after that." Directly after, he passed on answering the "what was it for?" question about rehab, instead going with a stern, "That's personal, thank you."
He also talked about his fans, saying this incident helped to "put things in perspective for me," and that he had "under-appreciated the fans and the game of golf." While he makes a better effort to connect with the fans this week, expect to see a less emotional Tiger – he says he's going to try to not be "as hot," but also not "as exuberant" on the course.
There were a few questions about drugs, and he steadfastly related the fact that he had "never taken any illegal drug," including HGH and PEDs. But he did say he took Ambien to help him sleep when his father passed away, and wouldn't discuss if the drug was involved in his Thanksgiving night accident.
For those looking to get a shot of Mrs. Woods, Woods confirmed "Elin is not coming this week."
It will be difficult to make the case Woods owes anymore of a discussion of the past four months to anyone. This was a revealing 30-minutes, in which he took all questions and answered most. It was a major step in the golf direction – and although Tiger Woods the celebrity will remain a topic in some areas of the media, Tiger Woods the golfer has taken center stage.
Here's part 1:

Part 2:

Have a tip we should know? tips@mediaite.com