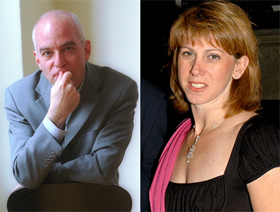 Sharon Waxman of The Wrap and Michael Wolff of Newser are currently in the midst of a heated war of words about the ethics of news aggregation and the citing of sources.  This is an interesting debate (definitely of interest to us here) and one that could go on forever.  Here we have collected the punches thrown in this round of the argument.
On March 28th, The Wrap publishes an article by Dominic Patten about Sony pulling videos from Beyonce's YouTube page.
The next day, Newser summarizes the piece and posts it on their own site.  They include a link to the original Wrap article to the right of the page in their sources column as is their protocol.
Waxman takes umbrage at the amount of Wrap articles that Newser rewrites and speaks out on Twitter, accusing the other site of "stealing".  Michael Wolff responds and soon the two sites are taking the conversation outside of public view.
Private conversations apparently do not go satisfactorily and Waxman writes a column on April 1st charging that Newser's aggregation techniques, that she says makes linking back to the original sources difficult for readers, are like "parasitism".
Hilariously enough, in a move that's either bold or masochistic, Newser summarizes that column and posts about it.  Interestingly, they don't list the source as Waxman's column but actually as a short Huffington Post piece that also aggregated the story.
Today, Wolff writes a response to Waxman in his column on Newser.  He makes the claims that Newser's sources are readily apparent to readers and that there is a need for their "more efficient" summary pieces on news stories.  As comparison, he points out the aforementioned Waxman column and it's 834-word length and the the brief 133-words of the Newser summary.
Wolff continues the fight on Twitter, calling Waxman a "ghastly writer".
Mediaite does a wonderful job creating a timeline summarizing the story and making links to all pertinent sources highly visible and accessible to all.  Everyone applauds Mediaite on its class and skill.
Obviously news aggregation is a big business and, in our opinion, an important one.  There is definitely a place on the web for sites that search for stories relating to a specific subject (in the case of stories we link to, the media itself) and collect them for readers who are interested in that subject but don't have the time for the searching themselves.  However, you must always make it clear who your sources are so that the people who do the original footwork can get the credit they deserve.  If this is done correctly, both sites should benefit, with news and new readers being shared between them.
In addition, perhaps this whole thing would never come up if Newser attempted to "curate" in addition to "aggregate".  Readers need a filter to show them which stories, out of the millions out there, they'd like to read.  However, if the Newser summarizers also tried to add their own spin to the stories they share, perhaps it wouldn't seem so much like the original sources were doing all the work.
Other people are already jumping into the fray. Felix Salmon of Reuters posted a piece earlier where he takes Waxman's side, summing up:
The big point here is that Wolff and Murdoch have more in common than Wolff might care to admit: both aspire to being one-stop news shops in an era when people get their news content from hundreds of different sites, and neither has any particular interest in sending his readers elsewhere. It's a strategy which not only annoys others but which is also, ultimately, self-defeating. A website which fails to leverage the enormous power of the external link is a website fighting with one hand behind its back. And in today's ultra-competitive world, that spells doom.
Both Wolff and Waxman make legitimate points in their respective columns, and, we'll leave it up to you, the all-important reader, to decide who made more. The one certainty to come from this is the expectation for more media critics to weigh in before this is all over.
Have a tip we should know? tips@mediaite.com