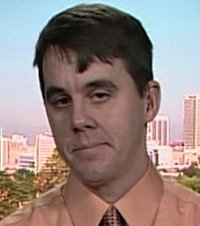 If you're like just about everyone except for Duke fans, you want Duke to lose tonight when they take on Butler for the NCAA basketball championship. You might want them to lose because of a general aversion to perennial powers winning championships, or maybe it's because Duke coach Mike Krzyzewski recently said this in an apparent attempt to get even more people to hate his team than already do.
But if Duke wins tonight, robbing underdog/pseudo-home team Butler of the ultimate prize (and everyone else of the ultimate March Madness storyline), there's another big winner besides Duke and its sizable fanbase – number-crunching college basketball blogger Ken Pomeroy, and, by extension, the statistically-inclined basketball fan. Using several advanced formulas calculating team efficiency on both offense and defense, Pomeroy has had Duke ranked #1 in his personal college basketball team rankings for a long time now. For example, he still had them at #1 a month ago, when we released our "top Internet-heavy sportswriters" list, included Pomeroy, and in discussing his rankings said Duke didn't deserve to be #1. Whoops. Pomeroy was pretty much on an island in ranking Duke first – they haven't topped either major top-25 poll at any point this season – but he'll be sitting pretty if Krzyzewski's squad vindicates him tonight.
This isn't the first time NCAA tournament results made Pomeroy's rankings look good. In 2008, the Wall Street Journal noted, Pomeroy ranked Kansas #1 and Memphis second. Those two teams met in the championship game, with Kansas prevailing. (Pomeroy's third- and fourth-ranked teams, UCLA and North Carolina, gave him a clean Final Four sweep that year.) So if you like a great sort-of-Cinderella-but-is-actually-just-a-really-good-team-who-got-especially-hot-at-the-right-time story AND harbor a love for the powers of hard data, know that regardless of what happens tonight, you can't lose.
And if you just hate Duke…well, there's always this.
Have a tip we should know? tips@mediaite.com