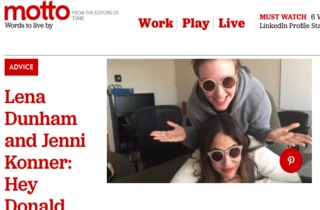 Time has launched Motto, a website for Millennial women that will compete with all of the other websites for Millennial women currently on the market. The tagline is "A site about work, play, & life," which is inoffensive enough. This will probably work out with minimal drama for the magazine giant.
A lot of ostensibly feminist endeavors are like that lately: benign overviews of issues are presented in a way that is likely not to stir up any commotion or really even draw attention from anyone who wasn't already interested. Presumably, all of this is done so that the editors and investors can reference the project as proof positive of their progressiveness and dedication to women's social advancement. There is also the sweet, sweet ad revenue that comes with churning out "shareable" content to consider.
Welcome to Motto! Advice worth sharing from the world's most influential people and the editors of TIME https://t.co/YQ6RcqlBVt

— TIME.com (@TIME) February 3, 2016
A first glance at Motto reveals that it is already on track to follow the prescribed procedure to a T.  At present, some of the articles on the front page of the site are, "How Much Would You Make if You Were a Man?" and "Jenna Lyons' Secrets to Impressing Your Boss." Naturally, there is a feature by Lena Dunham and a few articles about working out. It's standard Careers 101 fare in the vein of Cosmo and empowerment-lite in the vein of Everyday Feminism. (No hate; just an observation!)
The site will feature more articles like Dunham's along with other original reporting from celebrities and politicians. (President Barack Obama already has a piece titled "The World I Want My Daughters to Grow Up In" at the top of the page.) Motto will also serve as an aggregator of the best applicable work from Time, Inc., roping in articles from Real Simple, Southern Living, and Health along with Time, according to The Wall Street Journal.
The big profile in WSJ makes more sense once you learn that Time, Inc. saw a 12% decline in print and ad revenue in the third quarter, which ended September 30.
Managing editor of Time Digital, Edward Felsenthal, explained the site's purpose by saying, "Historically we've been about what to know. Increasingly, readers are looking to us for insight on what to do." That's optimistic and even agreeable, but the response thus far this morning has been mixed and tepid:
Are millennial women really underserved when it comes to ~content~ these days? I just don't buy it https://t.co/gmqwPS92EA

— Sarah Grieco (@sarahgrieco) February 3, 2016
@jeffreykluger @michaelscherer In addition to Motto, TIME should launch a site just for cats. Trust me, cats drive internet traffic.

— Jeff J. (@j2lovesfriday) February 3, 2016
Apparently we haven't hit the lifestyle site ceiling yet "Time launches new site called 'Motto' for young women " https://t.co/VsjLHD2naB

— Kelsey Rupp (@KelseyRupp) February 3, 2016
Maybe Motto should post some celebrity advice on suppressing rampant cynicism in the digital age?
[image via screengrab]
For more from Lindsey, follow her on Twitter.
Have a tip we should know? tips@mediaite.com