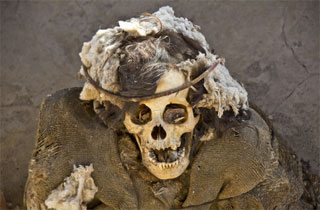 An intrepid writer for TIME Magazine wrote a brilliant investigative piece that delved into an underground sexual community with an unusual fetish: men who date women over 30.
In an article titled "15 Guys Explain Why They Date Women Over 30," lady-over-30 writer Anita Hamilton discovered that sad women over 30 didn't have to despair — there are, at the very least, fifteen men who won't suddenly drop them when they shrivel into dust within seconds of turning 30.
Despite all of the science saying that men tend to find twentysomethings attractive, Hamilton wondered: "If dudes were really so set on their caveman-era mating habits, wouldn't we see more single ladies over 30 home knitting tea cozies on Friday nights?"
So she found her fifteen men; outliers, all of them. From twentysomethings:
"They understand better how to interact in a relationship."
— José Fernández, 24 (single)

"I appreciate the grace and expression of slightly older women. Certain facial features, like smile lines, can be charming."
— Niv, 25 (single)

"They know what they want. There is more of an end game. So if you meet their criteria, they're good."
— Billy, 27 (has a girlfriend)
To, uh, fiftysomethings?
"We have similar life experiences and similar pop culture references. It's a little more comfortable."
— David, 50 (seeing someone, not exclusive)

"Given that I'm 52, I can't really relate to dating someone in her 20s — too much of an age difference."
— Patrick, 52 (single)
And this guy has Dem Old Ladeez all figured out:
"Women over 30 have stopped putting metal through their lips and tongues which makes it easier to kiss them. And they've figured out their makeup routine so they won't keep you waiting as long when you're trying to get to an event."
— Anonymous, 49 (seeing someone)
Other news outlets, inspired by Hamilton's discoveries, leapt on the bandwagon to poll men of many ages, on why they'd prefer to date ghosts over 30, and/or people with the bubonic plague (preferably over 30).
[TIME]
[Image via Shutterstock]
—
>> Follow Tina Nguyen (@Tina_Nguyen) on Twitter
Have a tip we should know? tips@mediaite.com