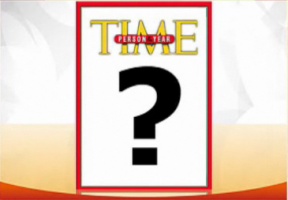 Time's Person of the Year can "Sometimes be surprising, sometimes be controversial, but always interesting," as Meredith Vieira put it on this morning's Today Show, where Time managing editor Richard Stengel announced the nominees.
The same can be said of the list of finalists. A few were no-brainers (Barack Obama, Ben Bernanke), at least one was puzzling (The Chinese Worker?). And some omissions (i.e. Twitter) may have been the biggest surprises of all:
First, here are Time's 2009 Person of the Year finalists (descriptions from Today's website):
Ben Bernanke, Chairman of the U.S. Federal Reserve
Usain Bolt, Jamaican sprinter and Olympic gold medalist
The Chinese Worker: "They are an increasingly influential group in one of the world's most powerful economies."
Steve Jobs, co-founder and CEO of Apple Inc.
Stanley McChrystal, Commander, U.S. Forces, Afghanistan
Barack Obama, President of the U.S.
Nancy Pelosi, U.S. Speaker of the House
Time's Stengel was hard to read. At first, when he was asked about Barack Obama — who would be the second person to ever win the award two years in a row, after Richard Nixon in 1971 and 1972 — Stengel was effusive.
"Certainly Barack Obama has been the prime mover behind so much happening this year, from the economic rescue to the health care plan … Nobel Peace Prize, Afghanistan …" But then, when prodded about General Stanley McChrystal, Nancy Pelosi, and The Chinese Worker, Stengel came out with spirited pitches for each nominee. The winner will be announced on Wednesday's Today Show (Time is letting itself get scooped by NBC?), so Stengel had every incentive not to let it leak.


So: the Chinese Worker. This one actually kind of makes sense and isn't as grating as some of the other 'conceptual' Persons of Years past. See: 1966's "the 25-and-under generation," 1988's "the endangered Earth," and the high-water mark of gimmicky, 2006's "You." But if you're going to have a Person of the Year competition, conceptual nominees inevitably feel like a cop-out.
Which is why it's a relief that one of the most buzzed-about possibilities, Twitter, wasn't even a finalist. Twitter is neat and all, but it isn't a person.
Other surprising omissions: Bernie Madoff, who was considered a contender in Time's 'evil' Person of the Year tradition; Iran protesters, who dominated Time's online poll with more than 550,000 votes cast in their favor; and popular Facebook blogger Sarah Palin, who was also the 2008 Republican Vice Presidential nominee and single-handedly reshaped the health care debate with her "death panels" post.
Have a tip we should know? tips@mediaite.com