TIME's Person of the Year Once Called Them a 'Joke' and Said They'd 'Lost All Credibility'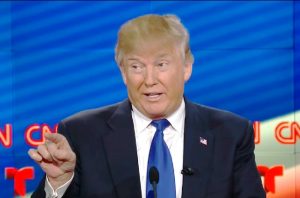 Today, President-elect Donald Trump was named TIME's Person of the Year. This didn't really come as a surprise, considering Trump shocked the world by defeating Hillary Clinton last month despite polls and political experts having written him off.
Trump, for his part, has already said how great of an honor it was to be named Person of the Year. This also included calling TIME a "very important" publication.
However, Trump hasn't always been a fan of the magazine, especially when he feels it has snubbed him on various lists.
Last year, Trump obviously felt he should have been named Person of the Year due to his news making campaign. When he wasn't tapped, he sent out the following tweet.
I told you @TIME Magazine would never pick me as person of the year despite being the big favorite They picked person who is ruining Germany

— Donald J. Trump (@realDonaldTrump) December 9, 2015
A couple of years earlier, the then-Apprentice host was miffed about the mag's 100 Most Influential People list and claimed that the publication would soon be dead.
The Time Magazine list of the 100 Most Influential People is a joke and stunt of a magazine that will, like Newsweek,soon be dead. Bad list!

— Donald J. Trump (@realDonaldTrump) April 27, 2013
The year before, he was mad about being snubbed and stated that TIME was no longer a credible source.
I knew last year that @TIME Magazine lost all credibility when they didn't include me in their Top 100…

— Donald J. Trump (@realDonaldTrump) October 26, 2012
Now, it hasn't always been insults and attacks on the publication. He's bragged about being on the cover in the past.
On the cover of @TIME Magazine—a great honor! pic.twitter.com/zlEHp49oPs

— Donald J. Trump (@realDonaldTrump) August 20, 2015
{image via screengrab]
–
Follow Justin Baragona on Twitter: @justinbaragona
Have a tip we should know? tips@mediaite.com