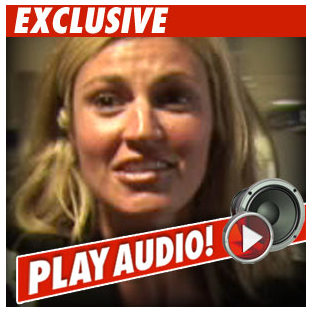 The sudden super-celebrity status of Erin Andrews appears to have driven up the value of paparazzi-style photos to the websites that publish such pictures. Websites like TMZ.
But what does TMZ do when shutterbugs can't get their pics of their subjects? Track down the 911 call from same subject complaining of getting harassed!
The sideline reporter for ESPN has received a ton of media attention recently because of a leaked video of her undressing that had been illegally recorded through a peephole. TMZ released a 911 call by Andrews complaining of paparazzi stalking her house last night.
The NY Post soberly reported the story thusly:
A 911 call released today features a curse-laden rant by ESPN's Erin Andrews complaining that the paparazzi are stalking her house.
"I have been in the news recently about being in the hotel naked and I have paparazzi outside and I was told by law enforcement that if I did, to call 911," she says in call to Dekalb County, Ga., 911 operators.

When the 911 operators says she's not familiar with the situation, Andrews responds, "I'm the girl who was videotaped without her knowing without her clothes on in her hotel."

Andrews says two men are outside and at one point are knocking on her door and looking insider her windows.
A stark difference from the tone of the TMZ report:
TMZ has obtained the foul-mouthed 911 call made when ESPN reporter Erin Andrews spotted "suspicious people" lurking around her Georgia home last week.

In the call, before she even says her name, Andrews says "I've been in the news recently about being in a hotel naked." She goes on to say, "I did nothing wrong and I'm being treated like f***ing Britney Spears and it sucks."

As TMZ first reported, cops found out they were just members of the news media looking for an interview with Andrews, who became national news after her peeping Tom fiasco.

The reporters were allowed to leave without incident.
Listen to the TMZ audio here.
Have a tip we should know? [email protected]