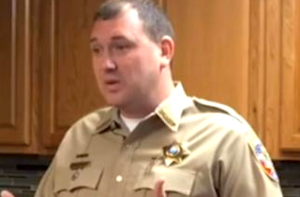 If you haven't heard by now, Beyoncé performed at the Super Bowl halftime show this year and some people are furious. Her new song "Formation" calls for resistance and an end to police brutality, which is being interpreted by certain vocal groups as "anti-cop." There was even an anti-Bey protest scheduled for outside of NFL HQ yesterday morning, but no one showed up.
In spite of the anti-climactic failure of the rally, at least one person still believes  that Beyoncé is a major danger to the fuzz: Rutherford County, Tennessee, Sheriff Robert Arnold.
On Monday evening, a gunman fired rounds outside Arnold's home in an apparent drive-by shooting. Of the incident, he said:
With everything that's happened since the Super Bowl, with law enforcement as a whole, I think we've lost five to seven officers, five deputy sheriffs since the Super Bowl, that's what I'm thinking. You have Beyoncé's video and that's kind of bled over into other things about law enforcement.
Beyond his failure to acknowledge the precedent set by decades of other musical artists performing with anti-brutality and even legitimately anti-cop messages, Arnold also made a misstep by attempting to tie Beyoncé to crimes against other police officers for which no motive has yet been established.
While it is true that five officers were killed across the country from February 7 to 11, The New York Daily News pointed out that none of these crimes have been linked in any way to the multi-platinum artist. They also took care to point out that Arnold has "a litany of lawsuits and corruption charges," with the most recent being an FBI-backed investigation into his alleged habit of selling e-cigarettes to prisoners. Further, his office is being sued for $20 million following the beating of an inmate in his cell by officers under his authority. The victim has sustained permanent brain damage and is now disabled. The Daily News suggested that these behaviors could be as much of a motivator for the shooting as Beyoncé's dancers taking Levi's Field wearing Black Panthers-inspired uniforms.
Though the spate of cop shootings is distressing, as is the presence of Arnold's two young children in his home when the drive-by shots were fired, the undying topic of Beyoncé-as-a-threat has become a public disturbance, as evidenced by many of you responding to yesterday's coverage of the failed protest with disbelief that there was still something to say nine days after the show. It needs to be locked up for good. Most entertainers would say that picking and choosing which of a savvy performer's costumes to focus on as a full indication of that person's character is folly.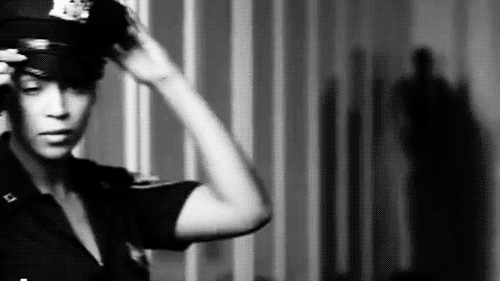 [image via screengrab]
For more from Lindsey, follow her on Twitter.
Have a tip we should know? tips@mediaite.com