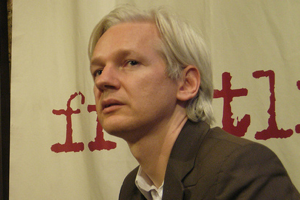 It's been a big day for the folks at Wikileaks, whoever they are. After statements by spokesman/founder/co-entity Julian Assange in London that the organization is planning on releasing another 15,000 Afghanistan war documents after it's initial dump late last month, the Pentagon has issued another warning to reconsider their plans to publish. Meanwhile, on Twitter, @Wikileaks doesn't have time for Reporters Without Borders' "idiot statements."
According to the AP, Assange made a virtual appearance today at London's Frontline Club, where he assured listeners he would "absolutely" publish the Afghan War documents he's currently sitting on and gave an update on the "harm-minimization process":
"We're about 7,000 reports in," he said, describing the process of combing through the files to ensure that no Afghans would be hurt by their disclosure as "very expensive and very painstaking." Still, he told the audience that he would "absolutely" publish them. He gave no indication whether he would give the documents to media outlets The New York Times, The Guardian, and Der Spiegel — as he has before — or simply dump them on the Wikileaks website.
Needless to say, the Pentagon is not excited about this. Pentagon Press Secretary Geoff Morrell called a second wave of leaks "the height of irresponsibility" and demanded that Wikileaks "immediately remove all the stolen documents from their website and expunge all classified material from their computers." And, just to emphasize why, they added that while "we [the Pentagon] don't have specific information of an Afghan being killed yet because of them. But I put the emphasis on 'yet.' "
This war of words doesn't look like it's about to end anytime soon without some drastic action (the definitive end of the Afghan War? The arrest of Julian Assange?). In the meantime, Wikileaks is increasingly receiving negative attention from human rights and watchdog groups, first from, among others, Amnesty International, and today from Reporters Without Borders, the latter saying in an open letter to Wikileaks that "The precedent you have set leaves all those people throughout the world who risk their freedom and sometimes their lives for the sake of online information even more exposed to reprisals." With these groups, as they play a supporting role to the main Wikileaks antagonist (the Pentagon), the whistleblower organization takes a significantly more casual approach to responding to them: via Twitter.
The Wikileaks Twitter feed is well worth following– it's a combination of important developments on the website, links to Wikileaks-related articles that organizers like, and hilariously insulting messages to people who disagree with the organization. While it's not known exactly who controls the Twitter feed, many news sources assume it is Assange, who on his own Twitter feed directs follows to @Wikileaks. It is here where the organization touts their support from such human rights luminaries as Fidel Castro and whine about the Pentagon's "obnoxious" spokespeople and their "rhetorical tricks." And it's here where the official word against Reporters Without Borders– rechristened Reporters Sans-Fact-Checking (Assange is a master of snark)– gets dropped down from, and that official word is that their statement against Wikileaks was an "idiot" one. So, I guess that settles it.
Given that there are about 9,000 classified documents that the Wikileaks team is still trying to wade through, the odds that the new leak, if it happens, will come in August are slim. Meanwhile, we can look forward to a notoriously newless month full of strong words (and tweets) from either side that will persuade neither to reconsider. Wikileaks has achieved an entertaining media stalemate, to be continued with the next disparaging tweet about whatever "idiot" stands in their way.
[Photo via Giulio Frigieri's Flickr]
Have a tip we should know? tips@mediaite.com