Tom Cruise's Team Has Reportedly Forbade Scientology Questions on MI:5 Press Tour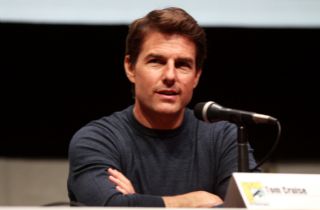 To promote Mission Impossible: Rogue Nation, Tom Cruise gave an interview with Jon Stewart on The Daily Show, and had a lip-sync battle with Jimmy Fallon. Cruise has discussed subjects ranging from workout tips to what it was like to shoot the film in his various interviews, but audiences might have noticed that none of Cruise's interviewers have asked about the elephant in the room.
A report from TheWrap indicates that that's because Cruise's public relations team is enforcing a strict "no personal questions" condition during his junket tour, and that includes any questions about Scientology.
When people aren't watching Cruise's action movies, they are usually discussing the questions and rumors surrounding his membership with the Church of Scientology, which has received renewal of interest since this will be Cruise's first media tour since the release the Scientology documentary, Going Clear.
The documentary focused on the nature of church's relationships with it's participants, as well as presenting allegations of abuse, blackmail, and other secrets of the organization. The film received strong reactions for presenting Cruise and actor John Travolta as trophy members used by the church as PR tools.
Even though Cruise spoke enthusiastically about the Church in the past, he has become increasingly withdrawn on the subject over the last 10 years. Current reports indicate that mentioning the documentary is strictly forbidden.
The ban also extends to Cruise's relationship status, which is likely due to continuing fascination over Cruise's divorce from Katie Holmes and the rumors of a relationship with his assistant.
A Comedy Central spokesperson denied to TheWrap that Cruise's people put any restrictions on what Stewart could ask.
[h/t Business Insider]
[image via flickr]
Have a tip we should know? [email protected]