Tommy Christopher: Democrats Say 'To Hell With Muslims' With God-Related Platform Change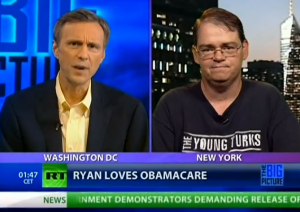 Mediaite's Tommy Christopher dropped by The Big Picture with Thom Hartmann yesterday to discuss a recent report about Paul Ryan, as well as offer his thoughts on the debacle that was the Democrats altering their platform to include God.
RELATED: The Nation Reports That Paul Ryan Requested Obamacare Funding
Christopher began by noting a report by The Nation that asserted that Ryan, for all his opposition to the president's Affordable Care Act, actually requested its funds himself, "in order to open a federally funded health clinic in his district." It's hypocritical, Christopher said, and it shows the disconnect between the two parts of Ryan's job. His ideology is "at odds with the other part of the job: Helping constituents."
Asked which part wins, he said "ideology puts butts in the seats," but even if Mitt Romney is elected, repealing the health care legislation is no easy feat.
The pair then moved on to another political story getting coverage this week: the Democratic party altering their official platform to include God." That drove me nuts," Christopher said, adding:
What are they trying to say here? To hell with all the Muslims in the party? To hell with all the, you know, the Buddhists? … There are a lot of people in this country, and in our party and who are not in our party, who worship a God that goes by a different name, that doesn't go by a capital-g God. And I also think that it's offensive to say that our rights, the rights that the government protects, are God given. Because if they were God given, why weren't they God given 200 years ago? When we kept black people as slaves or when women couldn't vote. Where was God then?
He deemed the whole ordeal "embarrassing."
Take a look at the segment below:

Have a tip we should know? tips@mediaite.com