Top Conservative Commentators Tell Mediaite Their Predictions For Trump SCOTUS Choice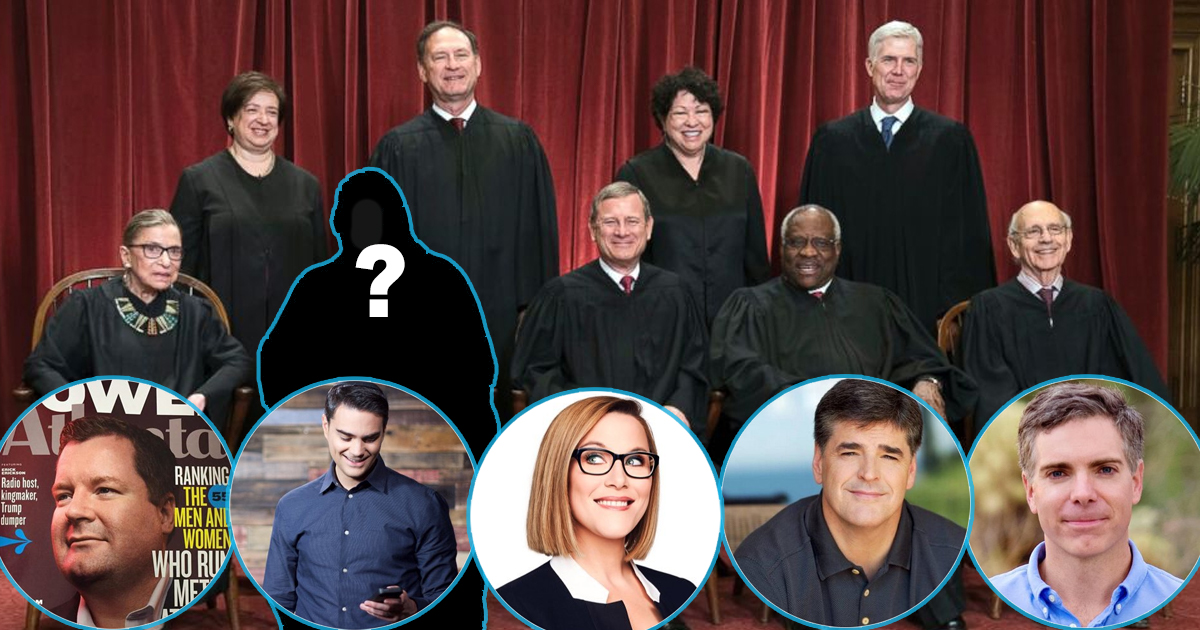 President Donald Trump is about to make his second Supreme Court nomination. It's a big deal. And like most big deals, there are a lot of political takes. Tonight is the big announcement, and Trump says he'll have a decision this afternoon. Before that happens, we asked a few conservative writers who they would pick, and who they think Trump actually will pick.
The Participants:
Erick Erickson, Editor of The Resurgent and Talk Radio host
Sean Hannity, Host of Hannity on Fox News Channel and Talk Radio host
S.E. Cupp, Host of S.E. Cupp: Unfiltered on HLN, Columnist, New York Daily News
Ben Shapiro, Editor-in-Chief, the Daily Wire and Talk Radio host
Eric Bolling, Host of America on CRTV
Paula Bolyard, Supervising Editor, PJ Media
Matt Lewis, Senior Columnist for The Daily Beast, Political Commentator, CNN.
Steve Deace, Conservative Review TV, Talk Radio host
Dan McLaughlin, Contributing Columnist, National Review
Peter Hasson, Reporter, Daily Caller
Joe Cunningham, Senior Contributor, RedState
Jim Geraghty, National Review Senior Political Correspondent
Alex Griswold, Reporter, The Washington Free Beacon
Erielle Davidson, Contributor, The Federalist
Liz Mair, Communications Strategist, Contributor at The Daily Beast
---
The Final Four:
Here are the apparent final four contenders, as reported by CNN on Monday.

Amy Coney Barrett, Brett Kavanaugh, Raymond Kethledge, and Thomas Hardiman are the short list. But conservatives aren't yet ready to count out Amul Thapar or Sen. Mike Lee.
The Favorites:
Matt Lewis: "Amy Coney Barrett seems to be the most solid, in terms of not having to worry that she will "evolve" away from her judicial philosophy once on the bench. And her personal story (the mom of 7 kids, including two adopted from Haiti) is inspiring and impressive. After Barrett, I think the opportunity for excitement falls off precipitously. My second favorite would probably be Judge Kethledge."
Jim Geraghty: "They're all good, but I hope he nominates Amy Coney Barrett to be the next justice on the Supreme Court. I think the debate around Barrett may be clarifying, as I wrote in the Morning Jolt."
Ben Shapiro texts: Lee and Barrett. He also discussed the pros and cons with Kennedy on Fox Business on Thursday.
Sean Hannity: "There is so much lobbying, and so much spinning by all these groups, I have honestly sat this one out. In the end they all offer hope and give reasons for concern. You always have to factor in whether they can be confirmed by Collins and Murkowski, then Rand and Ted. Senate margins are too tight. I would pick either Amy Barrett or Mike Lee."
Erick Erickson emails: "I think Amy Barrett and Brett Kavanaugh would both be excellent picks. Barrett is most assuredly more conservative and would expose Democrats to a host of culture war issues that could hurt them at the ballot in November. Kavanaugh would be a significant upgrade to Kennedy and could potentially garner Democrat support, which would hurt Democrats with their own in November."
SE. Cupp: "It should be Hardiman. Having already appeared on a short list he's been more fully vetted than the others. They're all conservative — all that should matter is who is most likely to get through."
Eric Bolling: "From the heart: Ted Cruz. From the head: Amy Coney Barrett, he himself nominated to the 7th US Circuit Court of Appeals. Why? ACB was a Notre Dame law professor who clerked for the late Antonin Scalia — a big plus for we conservatives!"
Steve Deace: "Of the four reported finalists, I believe only one has the demonstrated worldview to truly push back on decades of terrible precedents — first and foremost being Roe v. Wade. And that's Barrett."
Dan McLaughlin: "Amy Coney Barrett and Amal Thapar. Trump dipped into the traditional elite Beltway movement conservative high priesthood for Gorsuch, to great effect, and its candidates (Kavanaugh and Kethledge) are highly qualified and solidly conservative. But this time, he needs more than just another smart white man in a dark suit. Barrett and Thapar are DC outsider picks but both brilliant and highly conservative, Thapar as a veteran trial judge, Barrett as a distinguished academic. Barrett would provoke the most outlandish response, and be the best choice for energizing Republicans heading into the midterms."
Joe Cunningham: "I prefer Amy Barrett because she seems to so focused on just doing the job of ruling based on the Constitution, as opposed to making a name for herself by increasing the power and scope of the courts."
Alex Griswold DMs: Amy Coney Barrett (She's a Notre Dame professor)
Liz Mair: "My preferences would be the two Ks (Kavanaugh and Kethledge), I think."
Erielle Davidson: "I'd like to see Barrett nominated. She strikes me as one of the stronger advocates of originalism in the pool of nominees. She has less experience as a judge compared to some of the other potential nominees, but her youth might be an ideal tradeoff here. She could serve for over 30 to 40 years."
---
The Predictions:
Sean Hannity: "My guess as to who he picks is either Kavanaugh or Barrett— outside shot, Hardiman."
Dan McLaughlin: "Kethledge."
Matt Lewis: "I think Trump will pick Barrett, and that things will heat up fast when he does."
Paula Bolyard: "It all depends on what Trump's end game is. If he wants to roil the left, he'll choose Barrett. I think she'd be an excellent choice, and a part of me looks forward to watching the left beclown themselves over religious beliefs that a huge swath of Americans have in common with her."
Erick Erickson: "Barrett!"
Erielle Davidson: "Unclear to me. Do think it's going to be between Kavanaugh and Barrett. Depends on to whom he's listening internally."
Steve Deace: "No telling with Trump, but hopefully Barrett."
Alex Griswold: "I suspect Trump will actually pick Kethledge, even though he went to that disgusting skunkbear school."
Liz Mair: "I suspect he'll pick Hardiman tho."
Joe Cunningham: "It appears to be Kavanaugh in the lead, and I ultimately think that's who he'll pick. My sincerest hope, though, is that I'm wrong and he chooses Barrett."
---
The Bottom Line:
There could not be a clearer preference among the conservatives and Republicans we spoke to today. Amy Coney Barrett is ahead by a mile. It would be a fight, and that seems to be the fight that both Republican and Democrat voters and commentators want to have. Although Republicans would be wise to consider the counter arguments, like S.E. Cupp's, above.
It's not quite as clear on whether President Trump is on board for that. The predictions were mixed, and some folks didn't want to make a prediction at all. Trump is not only hard to read, there is every chance that something at the last minute can change his mind from any decision his inner circle may think is already made.
The bottom line? We all have to wait for tonight to find out.
[Images via screengrab and public domain]
—
Follow Caleb Howe (@CalebHowe) on Twitter
Have a tip we should know? tips@mediaite.com
Caleb Howe - Contributing Editor