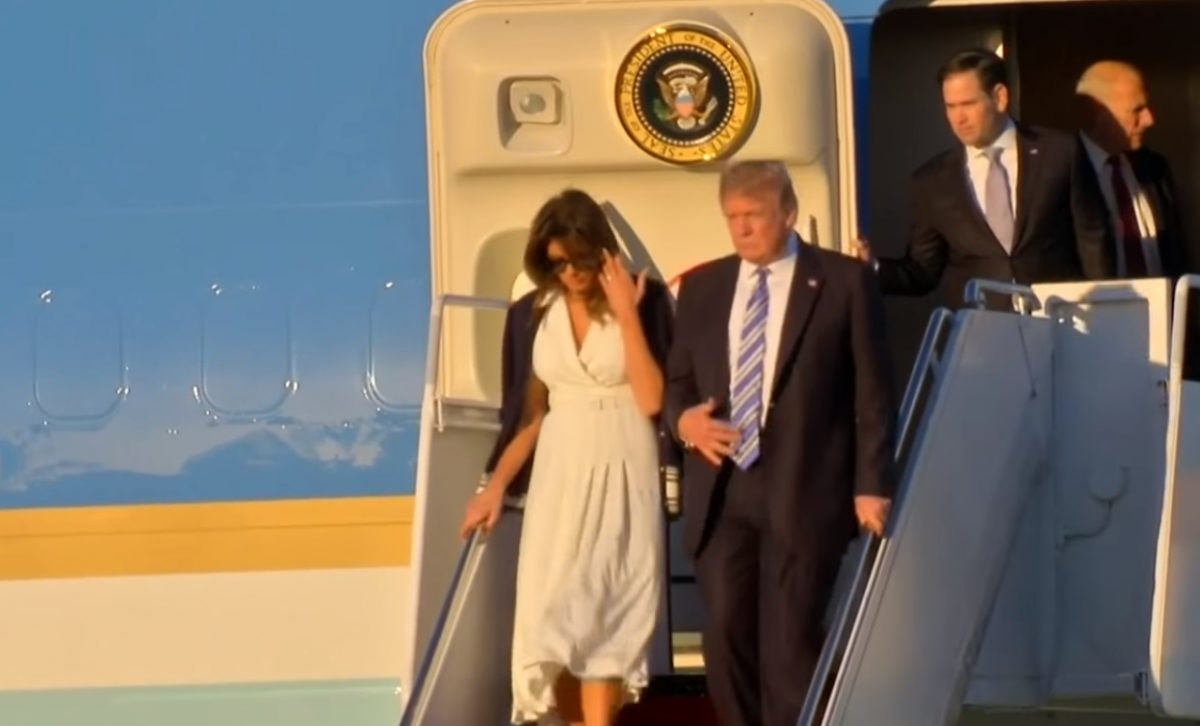 In another episode of the president mixing his business dealings with his White House role, several members of Donald Trump's Mar-a-Lago resort and Trump International Golf Club were seemingly invited on a tour of Air Force One last year, per a report from BuzzFeed News.
According to records obtained by the online news outlet — including an invitation and government scheduling records received via the Freedom of Information Act — the Trump club members were scheduled to visit the White House's private jet on February 18, 2017 at Atlantic Aviation FBO at Palm Beach International, which is near the president's South Florida resort.
BuzzFeed News was able to discern the invite from other standard tours, since no official tour guide was named and the dates of those tours matched with the invitations. Between the two tours, 14 people were set to participate, though it is not clear how many actually did, as members of the Trump clubs did not respond to BuzzFeed News when asked for comment.
Eight of the 14 people invited are connected with the Arrigo Automotive Group in West Palm Beach, Florida, including the company chief Joe Arrigo and his wife, as well as his kids Jim Arrigo and John Arrigo and their spouses — all of which are members at Mar-a-Lago and Trump International Golf Club.
Stephanie Grisham, who was a spokesperson for the White House at the time of the tours but now assists First Lady Melania Trump, defended the move.
"This is something that has been done in past administrations going back years and is not out of the ordinary," Grisham said. "Then they are also most likely longtime friends of the President. You have to keep in mind that Mar-a-Lago has been the President's home for many years."
Current White House officials did not comment on the matter.
[image via screengrab]
Follow the author on Twitter (@calebecarma).
Have a tip we should know? tips@mediaite.com