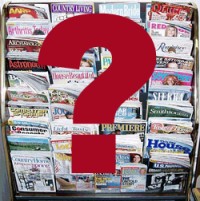 2009 was a remarkably troubled year for magazine publishing — filled with lay-offs, declining ad revenue, and serious questions about the viability of the medium as a whole. Yet, in this sea of bad news, a few titles were able to eke out some positive attention and influence over the field — thanks, in part, to the vision and leadership of their editors. In our first end-of-year media poll, we ask our loyal, smart, and attractive users to share their thoughts on who had the biggest year in various media categories. Our first category: Magazine Editors.



First off, our candidates (listed alphabetically by magazine title):
Robbie Myers, Elle – Not only has Elle challenged Vogue's ad revenue numbers for the first time, but its become hard to watch a television talk show without seeing an Elle employee. Also, their Women In Hollywood event didn't just garner great attention, but it got Alec Baldwin the gig to host the Oscars.
Jess Cagle, Entertainment Weekly – Cagle took over a shaky ship amidst rumors of imminent demise. Not only have those rumors abated, but the editorial product has regained some of its luster from yesteryear. Lots of whispers of late asking what would have been had Cagle replaced former editor Jim Seymore six years ago.
Cindi Leive, Glamour – Though not immune to the troubled year of Conde Nast, Glamour somehow was able to stay safe from the schadenfreude that afflicted the other titles at the publishing giant. And the "girl on page 194" mini-spectacle garnered the exact attention that Glamour needed, and spawned Leive's quote of the year when she told Matt Lauer that readers are looking for "authenticity over artifice."
Dave Zinczenko, Mens Health – Despite the recent kerfuffle over cover copy, Zinczenko continues to draw accolades for his work at Rodale. Most focus on his work at Men's Health, but he also deserves just rewards for his work as Editorial Director for Women's Health, a remarkably healthy magazine today.
Adam Moss, New York – It maybe be a cliche question, but is there a weekly magazine that more consistently nails the zeitgeist of New York city? And while it could have been a catastrophe, the death of owner Bruce Wasserstein, created a mere ripple in the perception of New York, thanks in part to Moss' assured leadership. Lest we forget, nymag.com has become a template for online/print integration.
Jon Meacham, Newsweek – Perhaps the only title that regularly challenges New York for nailing the zeitgeist, but what's more impressive is the scale and scope of Newsweek coverage. This year saw the news weekly re-invent itself, not just with a graphic redesign, but doing something very rare in media these days: aiming for a smarter audience instead of appealing to a lower common denominator. And no other weekly magazine has created more buzz in the news than Newsweek.
Rick Stengel, Time – Need proof that Time is still relevant, respected, newsworthy and viable? Look no further than the decision to put Fed Chairman Ben Bernanke on their cover as "Person of the Year," a decision that not only made Time look smart, but also garnered great attention. Oh, and there is also that exclusive interview that Stengel pulled off with Mahmoud Ahmadinejad.
Anna Wintour, Vogue – Its difficult to create a list like this and not include the "Grand Dame" of magazines. Why should this year be any different? Well 2009 started with rumors that Wintour was on her way out, and ended with a documentary that focused on the glory days of years past. Nobody is more associated with fashion, nor magazines than Wintour, and her decision to change design direction of her title shows she still wants to win.
Have a tip we should know? tips@mediaite.com