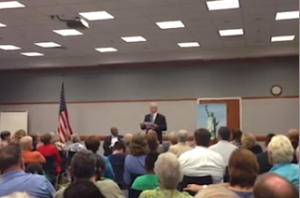 With Congress on vacation, it's town hall season in America, with lawmakers returning to their states and districts to make their case to constituents before the session resumes in September. And with the implementation of President Obama's Affordable Care Act set to occur on October 1st, some Republicans have been using these final months to argue against the law at home.
But Rep. Daniel Webster (R-FL) got more than he bargained for this week when he faced an angry crowd in Winter Haven, Florida, who urged him to "stop lying" about Obamacare. The town hall crowd was relatively subdued and respectful, with only a few grumbled of "misleading," until Webster got to his main point. "I believe that Obamacare is bad for America," the congressman said, "and so does the president."
At that point, the town hall audience exploded into objection, with one loud voice asking, "What about the seniors in your district?" Another voice chimed in with, "What about us?"
An event official had to step in to ask the crowd to quiet down and let Webster speak, but he couldn't get out more than a few words, before one man shouted, "Well, tell him to stop lying!" followed by "You want to shut us up."
Webster resumed his remarks, explaining to people that even if they are able to get health care plans with lower premiums, they will end up paying more "out of pocket," a charge that audience was clearly not buying.
He did manage to get a smattering of applause at the end, when he laid out his "three principles" of health care: "the care we need, at a price we can afford, from the doctor we choose."
Watch video below, via YouTube:
(h/t ThinkProgress) | [photo via screengrab]
—
>> Follow Matt Wilstein (@TheMattWilstein) on Twitter
Have a tip we should know? tips@mediaite.com