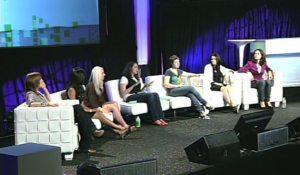 This Monday will see TechCrunch Disrupt kick off once again in San Francisco. Leaving aside the recent brouhaha about TechCrunch (get yourself caught up , here and here here), it remains one of the most important and influential tech conferences around, lining up top-notch speakers, panels and attendees, making news and generating an epic number of tweets. That's why it was such a big deal for me to speak on an all-women panel at last year's event.
The 'Women In Tech' panel at TCDisrupt SF 2010 was added in response to a dialogue with TechCrunch founder Michael Arrington about the ratio of women to men represented onstage at tech conferences (see here, here and here). It was…feisty! There were certainly some strong opinions on the issue, and multiple viewpoints on the best way to acknowledge and address it. While the ideal, of course, is to have awesome women talking onstage about anything other than this topic, it did start a conversation, about which many people disagreed but few could ignore. And it got some great women onstage presenting who would otherwise not have attended. Fundamentally, it changed the ratio – and was a factor in changing the ratio in a multitude of real, specific ways going forward. For that, feisty though it was, I really can't thank Michael Arrington and Sarah Lacy enough.
A year later, I've pulled together a transcript of the panel for posterity – and a great counterpoint to where we were, and how far we've come. I'm happy to report that much of what is debated on this panel seems ludicrously out of date today. Either way, if you have time to kill and a bottle of wine to kill along with it, this makes for some good reading – and good watching, if you are so inclined (see the video here). TechCrunch Disrupt's Women In Tech Panel Participants: Rachel Sklar, Mediaite Editor-at-Large and co-founder of Change The Ratio; Lauren Leto, founder of Bnter and Texts From Last Night; Cyan Banister, founder of Zivity; Sara Chipps, founder of GirlDevelopIt; Leila Janah, founder of Samasource; Michelle Greer, web strategist and tech-scene veteran, and moderated by Sarah Lacy, TechCrunch columnist and author of Brilliant, Crazy, Cocky: How the Top 1% of Entrepreneurs Profit from Global Chaos.
— Rachel Sklar
* * * * * * * * * * * * * * * * * * * * * * * * * * * * * * * * * * * * * * * * * * * * * * * * * * * * * * * * * * * * * * * *
SARAH: First of all, some people on this panel would have you believe that we need to raise awareness that there is not enough women in tech. So, I just want to get this done really quickly. Can we get a show of hands in the audience: anyone who is shocked that there's more men than women working in tech? Anyone who is shocked at the news that there's more men in leadership positions than women? All right, one guy in the back. Ok, I suggest you look around the room. Ok, you're not shocked anymore. Now that it's not an awareness problem that there's more men in tech than women, let's talk about what we're going to get done today other than raise awareness.
As Eric alluded to this isn't a panel I thought we should have. I don't like women being tokens on stage. I have an issue with it and that's what's going on here. Mike asked me to do it. Essentially we're here because you [Rachel Sklar] think TechCrunch is holding down women. That's what started all this.
RACHEL: Oh, come now. That's not what I said. There was an article in the Wall Street Journal about the dearth of leadership positions for women in the tech community. And I started an initiative called Change The Ratio, which addresses the ratio that you just pointed out and is very visible here.
Before we get into this I actually think it's important to say that I actually think that this is a great panel, I'm psyched to be on it. I'm psyched to see all these people on it who might not have been added to other panels. I appreciate being invited and I think it's awesome that the needle is now being moved. The ratio is being changed because you– because Michael Arrington–made the decision to see the issue and make it happen. So, my quote in the Wall Street Journal was I wanted to raise awareness so that people would see an event like TechCrunch Disrupt and not be able to not notice the overwhelming maleness of the line-up.
I mean, if we're getting into it, it's really hard to find conferences, panels, magazine articles, where women have even close to gender parity. We're not talking about 50/50, 60/40, 70/30—
SARAH: I'm not disagreeing with you. As I said, and the audience obviously agrees, this isn't news to everyone. We can pick up a magazine, we can see this. I've been a reporter for 15 years. I mean, I know I've written more men in business than women in business. We try every year to get as many women on a panel as possible. What's the awareness problem?
RACHEL: Well, I guess there must be one –
Have a tip we should know? tips@mediaite.com