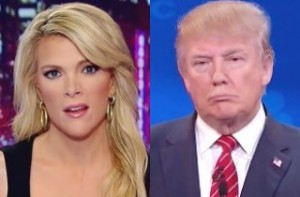 In an interview that aired on CNN Monday, Donald Trump breathed new life into his feud with Megyn Kelly, suggesting — absurdly — that nobody had heard of the Fox News host before the August debate when they first clashed.
"I might be the best thing that ever happened to her," Trump told Wolf Blitzer. "Who ever even heard of her before the last debate?"
Fox News is hosting the seventh Republican debate this Thursday, and Kelly will once again be co-moderating. Fox News responded to this latest attack, and a spokesperson told Mediaite:
Sooner or later Donald Trump, even if he's president, is going to have to learn that he doesn't get to pick the journalists—we're very surprised he's willing to show that much fear about being questioned by Megyn Kelly.
Despite his history with Kelly, Trump magnanimously told Blitzer that he would "probably" attend the debate. "I don't like her," he said of Kelly. "She doesn't treat me fairly." He added that he wanted to attend, so "she better be fair."
Trump tweeted over the weekend that Kelly should be barred from moderating the debate because of a "conflict of interest and bias." Fox News responded that "Megyn Kelly has no conflict of interest," and thanked Trump for his effort to publicize the debate.
Ever since the first Republican debate in August, where Kelly challenged Trump for his record of making misogynistic comments, The Donald has pestered her with all manner of crude, often sexist, and highly personal attacks. Kelly has never risen to the bait. "Trump who is the front-runner will not apologize and I certainly will not apologize for doing good journalism. So, I'll continue doing my job without fear or favor," Kelly said in August.
"I don't think she can treat me fairly. And I'm not a big fan of hers. Maybe I know too much about her," Trump concluded.
As to what Trump "knows," Blitzer did not press the point.
This is an opinion piece. The views expressed in this article are those of just the author.