Trump & Bernie Set to Prove Social Media is the Great Equalizer vs. Big Money's Old Playbook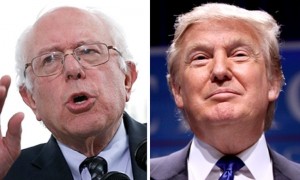 If there's one thing we've all learned during this election cycle, it's that precedent carries no weight when attempting to prognosticate an outcome. Trump won't run and therefore shouldn't be taken seriously. Trump won't release his tax returns. Trump will implode after comments about Mexicans/McCain/anchor babies/Fiorina/Fox (you get the idea).
And as we enter the eve of the first votes cast, Trump is the odds-on favorite to win Iowa, where he leads by 5 points in the last and final Des Moines Register/Bloomberg poll released yesterday. In New Hampshire, his Real Clear Politics lead is over 18 points. But how real are those numbers? Will all the hype, all the huge crowds, all the enthusiasm of his supporters – who are as loyal as they come this side of Bernie Sanders – translate to voters actually going for Trump during caucusing Monday and voting in New Hampshire next week? It's one thing to tell a pollster you like a candidate over the phone. It's a far different experience to actually cast a vote.
When hearing arguments on cable news throughout the morning for the likes of Ted Cruz and Hillary Clinton, the conclusion is invariably the same: Both Cruz and Clinton have superior ground games, which could make the difference between first and second in Iowa. On the Democratic side, Hillary has the decided big money advantage. Mrs. Clinton — who is locked in a statistical dead heat with Sanders in that same Des Moines Register poll — has also been planning for this moment in Iowa and gathering resources for eight years since a humiliating third-place finish to then-Senator Obama and the thankfully-forgotten John Edwards.
As for Cruz — whether one agrees or disagrees with his positions or demeanor – he's run a disciplined, organized campaign, and is the only horse (at this point) seriously challenging Trump. The Texas senator's ground game in Iowa dwarfs that of the frontrunner, with the Cruz campaign boasting it has 12,000 volunteers on the ground and has a chairman or chairwoman in each of Iowa's 99 counties. Team Cruz also touts making 12,000 calls per day in Iowa, as does that of the soon-to-be-politically-extinct Jeb Bush. The Trump ground game? Relatively non-existent. Overall, according to a recent Monmouth University poll, twice as many people say they had been contacted by Team Cruz over Team Trump.
All of that said, guess what?
Massive ground games and big money won't matter like they used to. Remember the theme that opened this column around precedent? It couldn't be any more true in this sense: Mass phone calls and blanketing campaign ads ain't what they used to be. Younger voters — the kind that power Sanders and Trump in droves — don't have landlines, don't watch nearly as much traditional TV. Those methods are part of an antiquated playbook many political pundits are still clinging to.
So what's the equalizer for Trump and Sanders?
Social media. It's instant, effective and most importantly… free. That's huge for a campaign like Bernie's, who chooses not to depend on super PAC money to fuel his campaign while allowing him to go directly to voters instead of fighting through the dominant Trump coverage on more traditional outlets like cable news. Interesting study from Pew here, as it reports that following the 2014 mid-terms, 16 percent of registered voters said they followed candidates running for office on social media. Compared to 2010, that's up 10 percent. A follow-up study hasn't been conducted by Pew, but another ten percent jump to over one-quarter of voters using social media to follow candidates is a conservative assumption.
As for Trump, he can afford to buy tons of ad time but is media-savvy enough to understand he controls the news cycle day-in, day-out. He may abuse Twitter while abusing others, but he still adds over 14,000 followers per day (total followers: nearly six million) while averaging 18 tweets daily in January. Bernie isn't nearly as active on Twitter, but when he is… he's effective: Just last week, for example, Sanders had the most popular Tweet among all candidates for the week and six of the top 10 (Trump took the other four spots). This one from January 14th currently has over 8800 retweets and more than 15,000 likes:
The Republicans seem to think they could beat our campaign. They haven't seen the polls. #GOPDebate pic.twitter.com/XitW9T28Vq

— Bernie Sanders (@BernieSanders) January 15, 2016
So while Cruz and Hillary have the superior ground games, it still isn't filling the enthusiasm gap. Democratic context: Sanders drew 5000 people last night in Iowa City; Hillary, Bill and Chelsea Clinton drew 460 in Cedar Rapids.
Waiting for @BernieSanders in Iowa City. pic.twitter.com/7ycFbQWjj9

— John Berman (@JohnBerman) January 31, 2016
Cedar Rapids is #WithHer. Ready for @HillaryClinton @billclinton and @ChelseaClinton pic.twitter.com/Ci81lwIOI0

— Josh Schwerin (@JoshSchwerin) January 31, 2016
Republican context on enthusiasm: A New York Times/CBS News poll last month shows that 33 percent of people who've picked a candidates say their minds are made up. But among Trump supporters, that figure rises to over 50 percent.
So will all those big crowds and energy translate to actual caucusing for Sanders, for Trump? Turnout – not just star-gazing or curiosity — will be the difference-maker. And a good chuck of voters for both candidates are new to the game.
"It's quite simple," said Sanders at his campaign headquarters in Des Moines before the weekend. "If the voter turnout is high, we're going to win. If turnout is low, we are going to be struggling."
You've got to go out and caucus," Trump told his supporters on Saturday. "You've got to get out there. I don't care what happens. If your wife leaves you for another man, if you leave your wife because you don't like her, I don't care what it is. If you're sick, you've got to get out."
Donald Trump. Bernie Sanders. Insurgent campaigns with opposite worldviews, opposite strategies (one attacks his opponents mercilessly, the other pretty much refuses to). They each draw the biggest crowds, appear to have the most loyalty, the most enthusiasm, the most momentum behind them.
And when the results are final, we'll either know if the old playbook still works, or if the unorthodox strategies – the kind that don't depend on big money and phone banks – can motivate the grassroots in a whole new, more personal, cost-effective way.
— —
Follow Joe Concha on Twitter @JoeConchaTV
This is an opinion piece. The views expressed in this article are those of just the author.