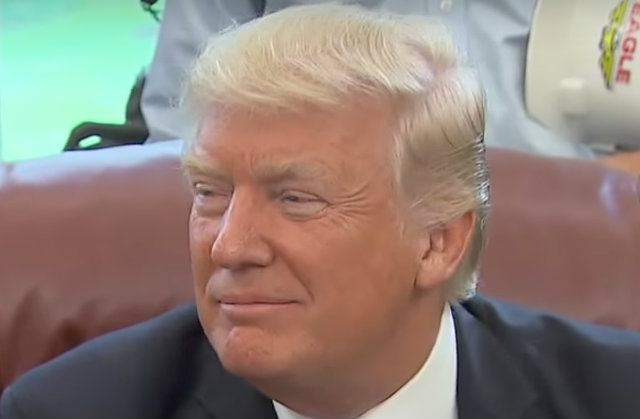 President Donald Trump took to Twitter once again Tuesday to unleash his outrage over the "Fake News Media," suggesting reporters are corrupt and touting his poll numbers as the best he's seen in a year.
Can you believe that with all of the made up, unsourced stories I get from the Fake News Media, together with the $10,000,000 Russian Witch Hunt (there is no Collusion), I now have my best Poll Numbers in a year. Much of the Media may be corrupt, but the People truly get it!

— Donald J. Trump (@realDonaldTrump) May 15, 2018
It's likely the president is referring to the latest Rasmussen poll numbers which claim 47 percent "of Likely U.S. Voters approve of President Trump's job performance" and 52 percent disapprove. While his approval ratings have been on the upswing, those particular numbers should be taken with a grain of salt since Rasmussen's polls are still regarded by some as a right-leaning, with its data usually not matching that of its peers.
But for the president, the numbers are a win that allows him to deflect attention away from a series of damaging media reports.
Trump and his staffers continue to be irked by leaks emerging from private meetings, which have made numerous attention-grabbing headlines, including reports of a joke made by communications aide Kelly Sadler about Sen. John McCain's (R-AZ) brain cancer.
Yesterday, the president said the leaks were exaggerated and that they were being used by the media "to make us look as bad as possible."
Meanwhile he's still dealing with Special Counsel Robert Mueller's Russia investigation, which Vice President Mike Pence last week said needed to be wrapped up.
[Image via screengrab]
Follow Amy Russo on Twitter: @amymrusso
Have a tip we should know? tips@mediaite.com