Trump Campaign Unveils Plan to Smear Bill Clinton: 'We're Going to Turn Him into Bill Cosby'
Fox News' Sean Hannity Will Help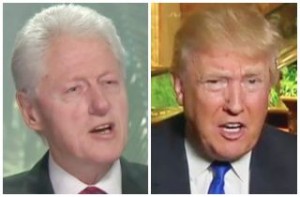 The Trump campaign is moving forward with a strategy to attack Bill Clinton by making public new women's accusations of sexual misconduct against the former president, according to Bloomberg.
The effort will kick off Thursday with a one-hour Fox News special featuring Juanita Broaddrick, Kathleen Willey, and Paula Jones, which will be hosted by Trump ally Sean Hannity.
The three women had previously appeared in a press conference one hour before the presidential debate on Sunday. Each has accused the 42nd president of sexual misconduct, which Clinton has denied.
Almost immediately after audio leaked on Friday of Trump in 2005 boasting about assaulting and exploiting women, the Republican candidate issued a statement alleging that "Bill Clinton has said far worse to me on the golf course." As more stories emerge about Trump's past misconduct with women, the candidate has sought to retaliate by focussing on Clinton's history of infidelities and alleged misconduct, as well as Hillary Clinton's alleged role in muffling those accusations.
"We're going to turn him into Bill Cosby. He's a violent sexual predator who physically abuses women who he assaults. And she takes the lead on the intimidation of the victims," Trump campaign CEO Stephen Bannon said.
The hope is that a deluge of fresh accusers will turn off young women voters from supporting Clinton in November.
Joshua Green reports:
Asked how the campaign would reach millennial women — few of whom watch Sean Hannity — an adviser said that Trump himself will force the national media to focus on Clinton's alleged intimidation of sexual assault victims. "Trump's gonna force it into the system," one adviser said. "By tweeting, by just moving it out there. The mainstream media will be embarrassed not to cover this."
—
Sam Reisman (@thericeman) is a staff editor at Mediaite.
Have a tip we should know? tips@mediaite.com