Trump Claims Washington's Dress Shops Are Sold Out Ahead of Inauguration. This is Not True.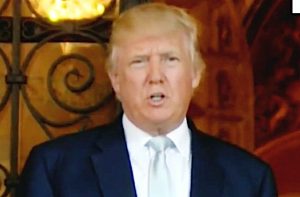 Last night, after Meryl Streep ripped into him during her Golden Globes speech, President-elect Donald Trump spoke with the New York Times' Patrick Healy to give his response. Besides stating that he was "not surprised" because Streep was a Hillary Clinton supporter, and stating that he never mocked a reporter for his disability, Trump also made the following observation about whether celebrities would be attending his inauguration.
"We are going to have an unbelievable, perhaps record-setting turnout for the inauguration, and there will be plenty of movie and entertainment stars," Mr. Trump said. "All the dress shops are sold out in Washington. It's hard to find a great dress for this inauguration."
Well, this apparently comes as a surprise to shopkeepers in the Washington-area, who state that they have plenty of gowns on hand still.
The Washington Post decided to fact-check this somewhat off-hand remark and found that stores both big and small in D.C. have a lot of merchandise on stock. And a lot of variety too.
Definitely not, said Martha Slagle, vice president and general manager of the Neiman Marcus in Friendship Heights. If a ball attendee were to walk in today, "you have more than a thousand evening gowns to choose from," she said, noting that the store stocks up every four years in anticipation of inauguration demand.

Classic black? Got 'em. Colorful garments? Yep, those, too — plus furs and wraps and evening coats for the notoriously chilly January nights, she said.
Slagle also laughed when told of Trump's comment, stating that she was "stuffed with beautiful gowns." Smaller stores like Ella Rue said they "always have dresses" and would only be sold out if "a thousand people came in today."
One boutique owner told the paper that she couldn't imagine the city's shops all selling out, saying that D.C. is a "bigger city than people think."
There was some reaction on Twitter to Trump's claim:
Why FALSELY state inaugural gowns sold-out in DC? Certainly not good for local biz which bring in xtra gowns for the event.

— Robin Givhan (@RobinGivhan) January 9, 2017
Trump talks about dress shops, Bannon talks about reviving the "iron works" – this entire administration thinks it's still 1937.

— Gary Legum (@GaryLegum) January 9, 2017
DC has not run out of dresses due to demand from people who want to attend fewer-than-normal inaugural events. https://t.co/akeRw3Lao2

— Philip Bump (@pbump) January 9, 2017
Trump claimed his inaugural is so popular that you can't buy a ballgown in DC. Nope, not true, found @emilyaheil. https://t.co/IcEXOROd5v

— Rosalind Helderman (@PostRoz) January 9, 2017
Superb. Trump falsely claimed that "all the dress shops are sold out in Washington" because of his inauguration. https://t.co/MWa41JBZp6

— Daniel Dale (@ddale8) January 9, 2017
The lack of A-listers performing at and attending the inauguration has been something of a sore spot for Trump and his team. It was reported last month that his team was desperately trying to book big-name talent. Meanwhile, Trump took to Twitter to claim that celebs were trying to get tickets but he just cared about "the people."
[image via screengrab]
–
Follow Justin Baragona on Twitter: @justinbaragona
This is an opinion piece. The views expressed in this article are those of just the author.