Trump Continuously Interrupts Jake Tapper When Asked About Racial Attacks on Judge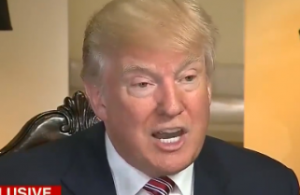 Today on CNN, viewers were treated to portions of two interviews from Jake Tapper. The first was with Democratic frontrunner Hillary Clinton and the second was with Donald Trump.
During the interview with the presumed GOP nominee for the presidency, the much-talked-about topic of Trump's repeated racial attacks on the judge presiding over the Trump University fraud case was brought up. Trump talked around the issue for a while, bringing up the woman who is no longer a plaintiff in the case and referencing the excellent client satisfaction report cards (that have been suggested were the result of coercion on the part of Trump U employees).
Tapper wasn't having it, asking, "But what does that have to do with his heritage…?
Eventually, Trump explained that it only makes sense that Judge Gonzalo Curiel would be biased against him since the mogul has plans to build a wall between the United States and Mexico. Tapper, like many before him, pointed out that Curiel is actually American.
Trump continued to interrupt the reporter and they went back and forth for a while until finally, Tapper was able to secure enough time to ask, "If you are saying he can't do his job because of his race, is that not the definition of racism?"
Trump said no, he didn't think that was the definition of racism. Then, he said, "I'm building a wall."
Watch above. Spoiler alert: The clip ends with Tapper reminding Trump again that the judge was born in Indiana, not Mexico.
[image via screengrab]
For more from Lindsey, head to Twitter or Facebook.
Have a tip we should know? tips@mediaite.com