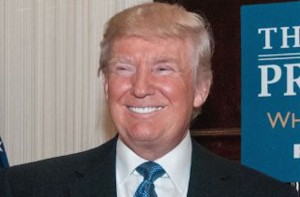 Donald Trump has been accused of racism for a while now, especially this past week, and Trump today declared that he can't possibly be racist because Don King likes him.
No, seriously. That's it.
Trump "announced" the endorsement this morning:
The great boxing promoter, Don King, just endorsed me. Nice!

— Donald J. Trump (@realDonaldTrump) June 10, 2016
Then he did an interview with The Washington Post where reporter Marc Fisher asked him about the perception that he's a racist.
And this is what Trump said:
Well, I am not a racist, in fact, I am the least racist person that you've ever encountered. I'll give you an example. It's funny, I just got this, it was just sent to me by Don King. Now, Don knows more about race than anybody. He owns this newspaper, you know –Don's made a lot of money. He just sent this to me, look at this.
Trump showed off a copy of the weekly newspaper Call & Post, owned by King, where there's supposedly a full-page endorsement this week of Trump for president and Bernie Sanders for vice president.
Trump continued, "Don King knows racism probably better than anybody. He's not endorsing a racist, okay? Do you want to use it? You can have the story, it just came out. I just got it 10 minutes ago, I don't know. Whatever."
There's nothing on the Call & Post site to suggest they've officially endorsed Trump, and when the New York Daily News asked King today if he's endorsing Trump, he said, "No. I'm endorsing the people. I'm not a Republican or a Democrat, I'm a Republicrat, and I go with the will of the people. The only reason Trump exists is because of the will of the people."
King and Trump are friendly, and have been for years, so it's possible that endorsement may actually come at some point.
[image via Shutterstockx]
— —
Follow Josh Feldman on Twitter: @feldmaniac
Have a tip we should know? tips@mediaite.com
Josh Feldman - Senior Editor