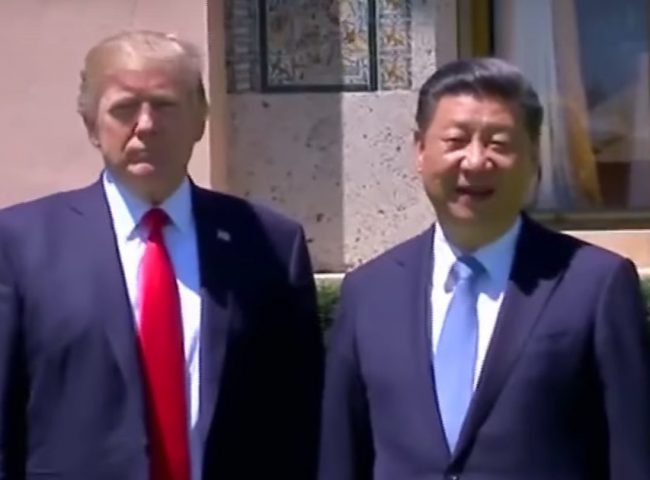 After months of fiery rhetoric on the campaign trail, President Donald Trump has reversed his position on China as it relates to currency manipulation.
In a new interview with the Wall Street Journal, Trump said of China "They're not currency manipulators."
The statement comes after Trump declared on his campaign website in 2015, according to multiple outlets, that the U.S. Treasury would designate China as a currency manipulator on his first day in office.
"We must stand up to China's blackmail and reject corporate America's manipulation of our politicians," the website read. "The U.S. Treasury's designation of China as a currency manipulator will force China to the negotiating table and open the door to a fair — and far better — trading relationship."
Even as recently as December 2016, when Trump was President-Elect, the newly-elected leader accused China of currency manipulation:
Did China ask us if it was OK to devalue their currency (making it hard for our companies to compete), heavily tax our products going into..

— Donald J. Trump (@realDonaldTrump) December 4, 2016
their country (the U.S. doesn't tax them) or to build a massive military complex in the middle of the South China Sea? I don't think so!

— Donald J. Trump (@realDonaldTrump) December 4, 2016
In the Wall Street Journal interview, Trump said that he was reversing his position because China hasn't manipulated their currency for months, and pushing the issue could hurt U.S.-China relations as the US. is looking for China to be an ally on North Korea.
Trump also said: "I think our dollar is getting too strong, and partially that's my fault because people have confidence in me. But that's hurting — that will hurt ultimately. Look, there's some very good things about a strong dollar, but usually speaking the best thing about it is that it sounds good."
[image via screengrab]
——
Follow Joe DePaolo (@joe_depaolo) on Twitter
Have a tip we should know? tips@mediaite.com
Joe DePaolo - Senior Editor