Trump Goes to Bat For Trump Jr.: 'This is the Greatest Witch Hunt in Political History'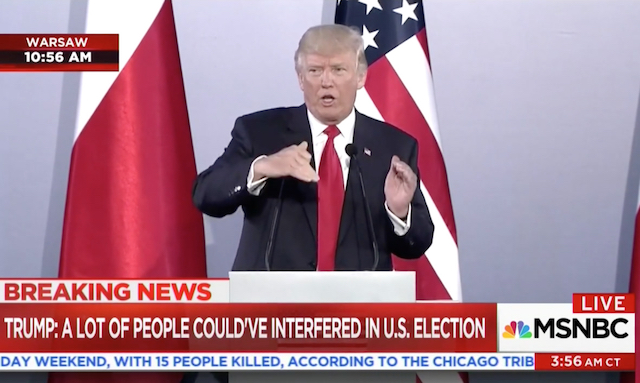 Donald Trump has been uncharacteristically silent on the matter of Donald Trump Jr.
With emails released by the younger Trump showing a clear desire to collude with the Russian government to undermine Hillary Clinton, President Trump has struggled to coordinate an official White House response.
After first distancing himself from the meeting with a Russian lawyer, the most President Trump would say was that his son was a "high quality person" and very "transparent."
On Wednesday Morning, Trump Sr. returned to Twitter, however, to his assert his son's innocence and praise his Tuesday night performance on Hannity. The president also added that the imbroglio into Trump Jr.'s emails were "The greatest political witch hunt in political history"
My son Donald did a good job last night. He was open, transparent and innocent. This is the greatest Witch Hunt in political history. Sad!

— Donald J. Trump (@realDonaldTrump) July 12, 2017
He also slammed the "fake media" — because of course.
Remember, when you hear the words "sources say" from the Fake Media, often times those sources are made up and do not exist.

— Donald J. Trump (@realDonaldTrump) July 12, 2017
Even a glancing look at the presidential Twitter feed reveals that there may be a lot of witches in Trump-land.
In addition to calling "fake news" coverage of his administration a "witch hunt"
FAKE NEWS – A TOTAL POLITICAL WITCH HUNT!

— Donald J. Trump (@realDonaldTrump) January 11, 2017
Trump also disparaged coverage of his decision to fire FBI Director James Comey as "the greatest witch hunt in American political history"
You are witnessing the single greatest WITCH HUNT in American political history – led by some very bad and conflicted people! #MAGA

— Donald J. Trump (@realDonaldTrump) June 15, 2017
It's unclear if the "greatness" of the current "witch hunt" now supersedes previous witch hunts.
Click here for a list of all Trump-related Witch Hunt tweets — quite a few!
[image via screengrab]
Have a tip we should know? tips@mediaite.com