Trump HATES Sharks, Didn't Use a Condom, And Other TMI Details From Stormy Daniels' Confessional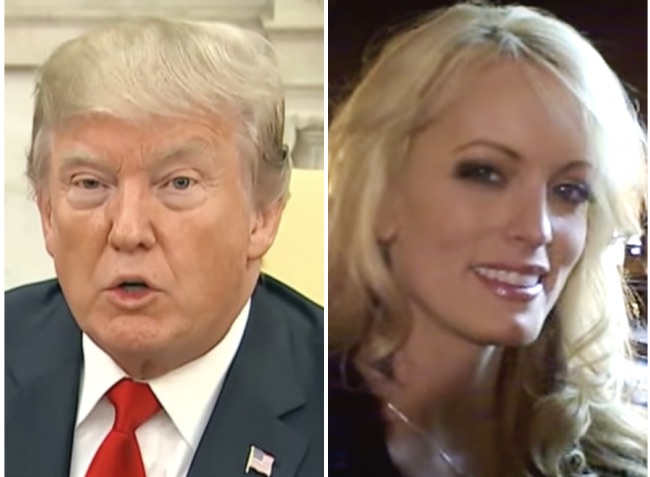 InTouch has released the full transcript of their interview with Stormy Daniels, the porn star President Donald Trump allegedly had an affair with years ago before secretly paying her to remain silent.
A lot of juicy tidbits from Daniels' past already emerged throughout the past week, not the least of which were the anecdotes about how she spanked Trump with a Forbes magazine, or the time the future president told Daniels she was "just like his daughter." Now, InTouch has provided everything from their interview with Daniels in 2011. The magazine says that Daniels passed a polygraph test over her account on Trump, as did a number of associates who supported her story.
One noteworthy detail was that while Trump was cheating on Melania, he did so without using a condom:
IT: After you two slept together, did he say anything like "don't tell anyone," or anything along those lines?
Stormy: No. He didn't seem worried about it. He was kind of arrogant. It did occur to me, "That's a really stupid move on your part." And it's not like I went around and told anybody. No one ever really knew.

IT: Did you use protection?

Stormy: No.

IT: Was that a conversation or was it kind of in the moment?

Stormy: It was kind of in the moment. And I was really kind of upset about it because I am so, like, careful. The company I work for is condom-only. But I remember for a fact that we didn't because I'm allergic to latex. And I didn't go up there with condoms on me. I know that for a fact because 99% of men don't carry non-latex condoms on them, so I usually always have one in my backpack but I thought I was going to dinner, so I only had a tiny little cocktail purse.
Not every detail Daniels discussed was about sex. She also told several stories about how Trump promised to help her with certain business perks and setting her up with a condo in Tampa, though Daniels was not surprised when these promises fell through. Even so, they spent enough time together to get friendly with one another, and for Daniels to walk away with this weird story about how Trump feels about sharks:
"The strangest thing about that night — this was the best thing ever. You could see the television from the little dining room table and he was watching Shark Week and he was watching a special about the U.S.S. something and it sank and it was like the worst shark attack in history. He is obsessed with sharks. Terrified of sharks. He was like, "I donate to all these charities and I would never donate to any charity that helps sharks. I hope all the sharks die." He was like riveted. He was like obsessed."
[Image via screengrab]
— —
>> Follow Ken Meyer (@KenMeyer91) on Twitter
Have a tip we should know? tips@mediaite.com