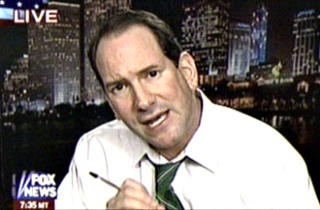 Ever since Donald Trump announced his candidacy for President, Internet news tycoon and founder of the influential conservative news aggregation site, The Drudge Report, Matt Drudge, has been a fairly consistent supporter of the President.
Drudge has been a frequent visitor to the White House as of late apparently making appearances, "all the time," according to one senior Trump official, CNN reports.
He's met with President Trump, his daughter Ivanka Trump, and even given advice to Ivanka's husband and Presidential adviser Jared Kushner.
Drudge has even been credited with playing a role in the election of Trump, primarily by supporting him through the crowded GOP primary.
But it would appear as though Drudge's loyalty is not unconditional.
On Monday morning, the newsman tweeted a picture of the cover a 1990 NY Daily News with the headline, "Trump In A Slump – worried banks are pressing him on $2 Billion debt," with the text "Life is a circle."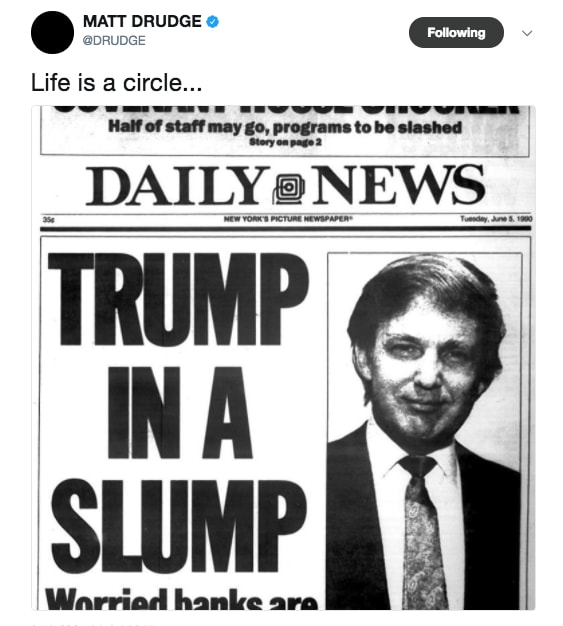 This was just the latest in a series of unflattering posts or tweets about the Trump administration from Drudge or his website as he appears to be more frustrated with the President and Republican Congress's inability to produce on promises made during the election cycle.
Last week, Drudge posted a banner claiming that former President Obama is "Living Easy," mocking the Trump Administration's failed attempts thus far to undo the Obama legacy and many Trump supporters had hoped he would. The headline provided a link to an LA Times story titled, "Trump set out to uproot Obama's legacy. So far that's failed."
[image via screengrab]
Have a tip we should know? tips@mediaite.com