Trump Is 'An Instruction Manual for How to Caricature': New Yorker Cartoonist Tells All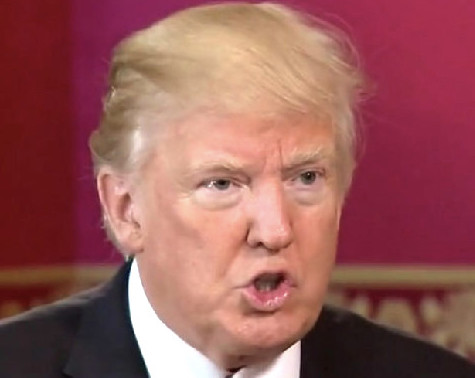 Presuming you've been paying attention to the covers on the New Yorker — or any magazine — lately, you've noticed that Donald Trump isn't getting very flattering portrayals.
One man you can thank for that is Barry Blitt, who is behind this week's cover, which shows Trump golfing holes into the windows of the White House. He gave an interview to Mother Jones this week and described the president as "an instruction manual for how to caricature."
This week's cover, "Broken Windows," by Barry Blitt:  https://t.co/1uyuMWCuFc pic.twitter.com/jaciq9bNoH

— The New Yorker (@NewYorker) April 3, 2017
"I didn't know anyone could look like that," said the freelance illustrator of the man whose head looks like it's "sculpted out of some kind of pudding" and whose face looks like it "is sort of melting slowly."
Regarding the election that pitted now-President Trump against former First Lady, Senator, and Secretary of State Hillary Clinton, he said this:
I was sort of obsessed with it, and living and dying with every new poll that came out. I have to say that I had the sick feeling Trump would win pretty much all the way through it. Even when it seemed like Hillary had it. I went to an election party that night and everyone was really cheerful and I just thought they were crazy. By 9:30 our time, I had to leave. I felt like I was like the one guy on the airplane that knew the plane was going to crash.
He said that when it comes to Trump, "every picture is a revelation" because he finds a new distinctive feature to focus on because "he really is a cartoon."
Maybe my favourite so far, by Barry Blitt, LA. #PresidentTrump @NewYorker pic.twitter.com/RDBY7nP70c

— Iron Lung (@bselcoe) January 21, 2017
"If you're asking me what features — obviously his hair. The back of his head is fantastic and his eyebrows are amazing. His overbite and his series of chins and the color of him and the texture. It's amazing!" the artist gushed. "He's like an artifact. It's an amazing head to draw and I have to think it's got to be part of his success. It's ready-made for public consumption."
[image via screengrab]
——
Have a tip we should know? tips@mediaite.com