Well, it happened. After coming in second place to Jeb Bush in last week's CNN/ORC poll, Donald Trump just scored his first national first place finish with 15% of Republican registered voters choosing him as their first choice in the new Economist/YouGov poll.
Conducted from July 4-6 using YouGov's web-based system, Trump found himself four points ahead of Bush and Rand Paul, who tied for second with 11%. Following that, Scott Walker, Marco Rubio and Mike Huckabee all tied for third place with 9%.
With 12%, Trump led by an even larger margin when voters were asked to pick their second choice candidate and according to YouGov, "one in four Republicans who are registered to vote say he is their first or second choice."
See the full results below: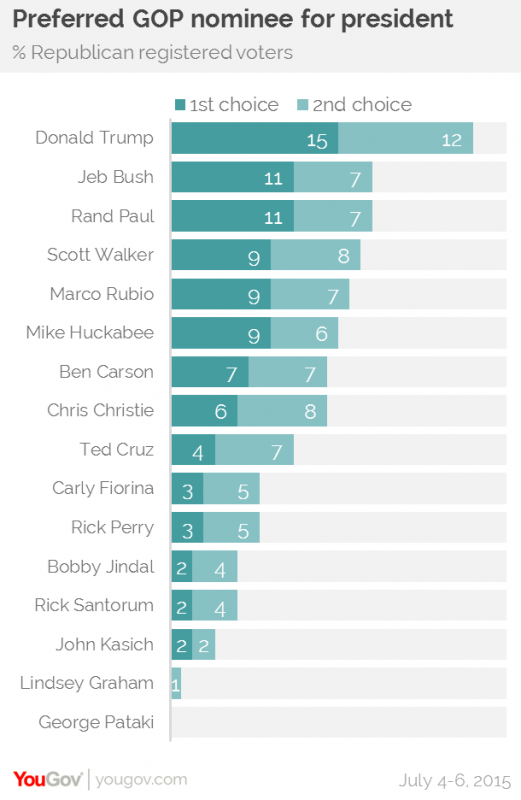 However, when Republicans were asked who the "most likely" nominee would be, Trump's numbers dropped significantly. On the question, he fell to 7% behind Bush (29%), Paul (12%), Rubio (8%) and Walker (8%).
Another change for Trump came in the category of favorability. While only 38% of Republicans found him "favorable" before his campaign announcement, that number has jumped to 49% in just three weeks. Of course, that means nearly half of the respondents still had an unfavorable opinion of him (with 9% abstaining). By contrast, Jeb Bush has a 60% favorable rating with just 28% of Republicans finding him unfavorable.
As someone like Marco Rubio knows, candidates tend to do best in the polls immediately following their official entrance into the race. If Trump is still leading the pack two months from now, then Republicans can start worrying.
[Photo via screengrab]
— —
>> Follow Matt Wilstein (@TheMattWilstein) on Twitter
Have a tip we should know? tips@mediaite.com