Trump Lauds Kanye West: His Support Has Done a 'Great Service to The Black Community'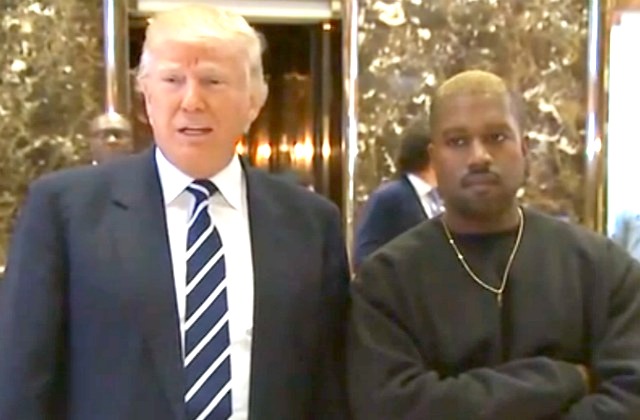 And here come the Kanye tweets. Again.
Our Commander-in-Chief, Donald Trump, is recently enamored of Kanye West, who claims to have emerged out of "the sunken place" and freed himself of the chains that have restricted his "independent thought." More on this here.
Chance the Rapper also got in on the free thought fun, praising Ye for his new interest in expression of his many (tangentially) political views.
Now, Trump has praised both Kanye and Chance, and he also added Dr. Darrell Scott to the mix, who, incidentally, appeared on Fox & Friends this morning.
Kanye West has performed a great service to the Black Community – Big things are happening and eyes are being opened for the first time in Decades – Legacy Stuff! Thank you also to Chance and Dr. Darrell Scott, they really get it (lowest Black & Hispanic unemployment in history).

— Donald J. Trump (@realDonaldTrump) April 27, 2018
"Kanye West is his own man, and he has a long relationship with the president, and he's told himself I'm not going to align my viewpoints and my opinions to be suppressed by the left," Scott told Brian Kilmeade.
"He's basically saying, in African-American vernacular, they're not gonna punk me," he added.
The two then discussed the plans for urban revitalization in Chicago, and Scott commended them.
"This is going to be great for the urban communities," he said. "Kanye West was absolutely right, President Obama has done nothing for Chicago, it actually got worse under his watch."
[image via screengrab]
Have a tip we should know? tips@mediaite.com