Russian Lawyer in Trump Tower Meeting Admits to Kremlin Ties: 'I Am An Informant'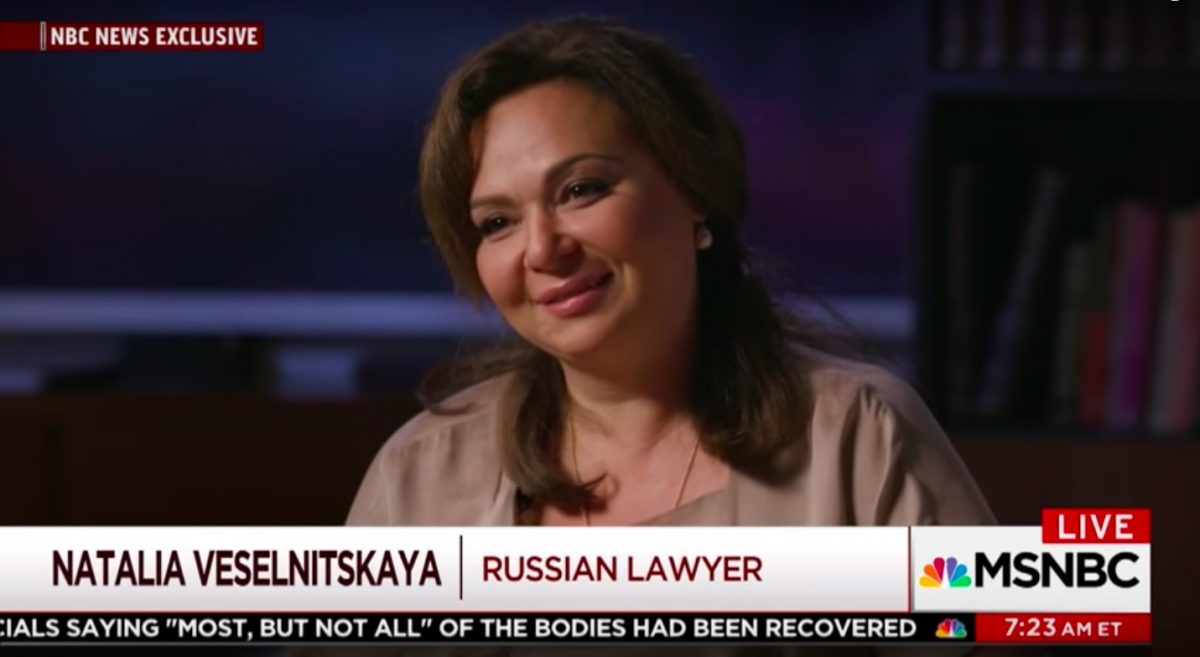 Natalia Veselnitskaya, the Russian lawyer who joined a controversial meeting with top officials of President Donald Trump's 2016 campaign, now admits she has deeper ties to the Kremlin than her previous statements indicated.
Newly released emails reveal Veselnitskaya had an apparent working relationship with Russia's top prosecutor general, Yuri Chaika. "I am a lawyer, and I am an informant," Veselnitskaya told NBC News after reporter Richard Engel confronted her with copies of the emails in a forthcoming interview to be aired Friday on NBC Nightly News with Lester Holt. "Since 2013, I have been actively communicating with the office of the Russian prosecutor general."
The lawyer seemingly worked with Chaika in 2014 to prevent a Justice Department civil fraud case against a prominent Russian businessman, Denis Katsyv, and his real estate firm, Prevezon Holdings Ltd., the New York Times reported on Friday.
Her previous statements delivered to the Senate Judiciary Committee in November last year seemingly denied the exact connections now coming to light. "I operate independently of any governmental bodies," she wrote in her Senate Judiciary Committee statement. "I have no relationship with Mr. Chaika, his representatives and his institutions other than those related to my professional functions as a lawyer."
It's long been reported that Veselnitskaya — who now claims her emails were hacked, according to her Wednesday interview with Russian news outlet Interfax — wasn't meeting with the Trump campaign to discuss policies surrounding Russian adoption, as the White House previously claimed. Veselnitskaya was meeting with Donald Trump Jr., Jared Kushner and the former Trump campaign manager Paul Manafort, among others, after promising to deliver damaging material regarding former Secretary of State Hillary Clinton. Her meeting with the campaign remains a focus of an ongoing investigation into Russian interference in the 2016 election, led by Special Counsel Robert Mueller.
[image via screengrab]
—
Follow Chris Riotta (@ChrisRiotta) on Twitter
Have a tip we should know? tips@mediaite.com