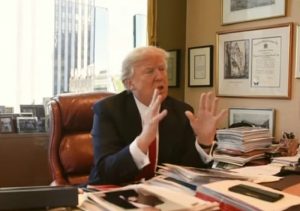 During an interview with representatives of the Times of London and German publication Bild, President-elect Donald Trump touched on some of the recent political upheavals in Europe, such as Brexit, and the heat German leader Angela Merkel is facing in her country.
Regarding Brexit, the incoming POTUS stated that he "sort of, as you know, predicted it" and said that the United Kingdom voted to leave the European Union because "it wanted its own identity." This then led to a discussion about Syrian refugees, which he claimed was "the final straw that broke the camel's back." Trump added that he believes other countries will leave the EU due to refugees coming in.
Trump went on to talk about Merkel and the mistake he feels she made:
While he expresses admiration for Angela Merkel, Mr Trump believes that she made "one catastrophic mistake" by welcoming an unlimited number of Syrian refugees. More than one million migrants from north Africa and the Middle East arrived between 2015 and 2016. He adds that he believes the West should have built safe zones in Syria — paid for by the Gulf — to limit the surge. "I think she made one very catastrophic mistake and that was taking all of these illegals, you know taking all of the people from wherever they come from. And nobody even knows where they come from."
Trump's use of the term "illegals" to describe refugees did get some reaction online.
Trump says Merkel's "catastrophic mistake" was "taking all of these illegals." (Refugees aren't "illegals.") https://t.co/zoLNJr8JRA

— Daniel Dale (@ddale8) January 16, 2017
Donald Trump calls refugees "illegals" and Michael Gove doesn't challenge him on it. A refugee fleeing bombs is NOT an illegal immigrant

— Will Black (@WillBlackWriter) January 16, 2017
Trump also calls refugees fleeing slaughter in Syria as "illegals."

— Blake Hounshell (@blakehounshell) January 15, 2017
Much to discuss in the Times' Trump interview, but one small thing. He refers to refugees who fled the slaughter in Syria as "illegals"

— Jonathan Freedland (@Freedland) January 15, 2017
Revealing. When Trump says "illegals" he really means "non-white" https://t.co/NTNU7bmGuL

— Liam Hogan (@Limerick1914) January 15, 2017
For Trump, Syrian refugees fleeing Assad's atrocities (which he closes his eyes to) are just
"illegals." https://t.co/ay6svnmrUx pic.twitter.com/Kbm1lGVK5Q

— Kenneth Roth (@KenRoth) January 16, 2017
Elsewhere in the interview, Trump called NATO "obsolete" and indicated that he would keep his personal social media accounts open. (It was later reported that Trump would choose his personal Twitter account over the official @POTUS one.)
[image via screengrab]
–
Follow Justin Baragona on Twitter: @justinbaragona
Have a tip we should know? tips@mediaite.com