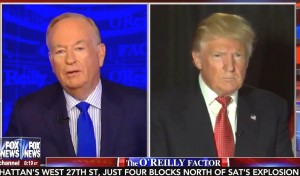 Donald Trump said that most of the upcoming presidential debates would be rigged against him.
The first of three debates between him and Hillary Clinton will take place next Monday; NBC's Lester Holt will moderate. "I have respect for Lester," Trump told Bill O'Reilly Monday night.
He said that the media was putting pressure on Holt because Matt Lauer had been widely criticized for giving preferential treatment to the GOP candidate during the forum he hosted last week.
"Matt was very tough on me, and he was tough on her. But I think he was equally tough, maybe even tougher on me. And they really hit him because I won that debate," Trump said.
"What they're doing is they're gaming the system, like gaming the ref," he said. "They" were attempting to "intimidate" Holt, he claimed.
"Lester's a professional, but we'll see what happens. I mean, I think it's unfair. I think it's unfair what they're doing, Bill," Trump said.
The moderators for the second presidential debate, scheduled for Oct. 9, will be CNN's Anderson Cooper and ABC's Martha Raddatz, whom O'Reilly described as "kinda partisan people." Both were Democrats, the Fox host observed.
"It's a phony system," Trump said. "Lester's a Democrat. I mean, they're all Democrats, okay? It's a very unfair system," Trump said. He said he was "not okay" with Cooper, "because I think he treats me very unfairly at CNN. I think he's very unfair on CNN."
He repeated his charge: "Gaming the ref. That's what they're doing."
He said he didn't mind the moderator for the third and final debate, Fox's Chris Wallace, "as long as he's fair." That debate will take place on Oct. 19.
Although he was wary of the debates being "unfair" to him, he assured O'Reilly that he wouldn't sit them out like he did two primary debates in January and March.
—
[image via screengrab]
Sam Reisman (@thericeman) is a staff editor at Mediaite.
Have a tip we should know? tips@mediaite.com